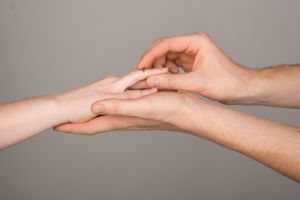 Thinking of the most perfect date to propose? Well, it's already February and what better day to propose than on Valentine's Day? If you want to make that day extra special, here are some things you might want to consider:
Proposing in Front of a Crowd

If you are quite confident that she would say yes, you could try proposing in front of a crowd. You could do this at a sporting event, live theatre or a restaurant. Since you are planning to surprise her, you might want to coordinate with the staff of the venue. Doing this can make your plans easier and the staff may even give you some good suggestions on how and when to propose to your partner.
Chocolate
If your partner loves chocolate, you could give her a heart shaped box of chocolates and replace one chocolate with the engagement ring. You could also give her a bag of chocolate hearts and wrap one with a note saying, "Marry me".
On a Walk

Make it less obvious and more surprising by going out with her for a walk around a romantic location. Start with a conversation about how each other's day is going and then lead the conversation to a topic about your relationship. Talk about why you are in love and why you think your relationship matters. Then, slowly take out the ring and propose.
Photo Album

Make a nice album of your relationship with wonderful photos of you and your partner. Show pictures of your trips together and some funny random ones, too. On the last two pages, write something like, "What will the future hold?" and "How about marriage?"
Jigsaw Puzzle

For Valentine's Day, buy her a puzzle with one piece that's missing. When she searches for the last piece, give her the piece that says, "Marry me".