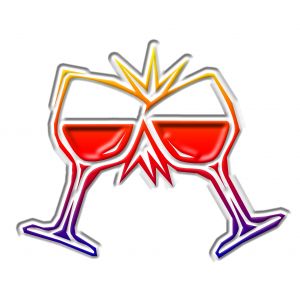 As your wedding day approaches, there are plenty of opportunities to entertain your well-wishers: engagement party, bridal shower, hen and stag parties, to name just a few. With all these opportunities, why not create a special menu of wedding drinks that will surprise and delight your guests?
Whatever the wedding occasion, from engagement party to wedding reception, offering a menu of wedding drinks puts an extra touch of hospitality into the proceedings. Fortunately there are many cocktail recipes available today to add that something special to your wedding festivities.
The Something Blue
Here's the perfect complement to the wedding adage, "something old, something new, something borrowed, something blue …" This drink is made with white wine and Hpnotiq, a blue 35-proof (17 percent ABV) fruit liqueur made from vodka, cognac, and tropical fruit juices. It's simple to make and its colour certainly sparks wedding conversation! The recipe for a single serving is 2 oz Hpnotiq, 2 oz white wine and 1 oz ginger ale, so your bartender can mix up large batches accordingly. Serve in a Champagne flute.
The Wedding Cake
This popular wedding drink has two variations: one with white crème de cacao and milk, another with gin and cream. To add to its versatility, either of these recipes can be blended in a mixer with 3/4 cup of ice and served in a hurricane glass as a frozen cocktail.
The single-serving recipe for the gin version:
* 3/4 oz gin
* 3/4 oz Amaretto
* 1/4 oz orange juice
* 1/4 oz pineapple juice
* 1/4 oz cream
Preparation: Pour the ingredients into a blender with ice and blend well. Serve in a hurricane glass.
The single serving recipe for the white crème de cacao version is:
* 1 1/2 oz Amaretto
* 1/2 oz white creme de cacao
* Milk
* Pineapple juice
Preparation: Pour ingredients into a mixing glass filled with ice. Top with another glass or shaker tin and shake well. Serve in a highball or hurricane glass.
The Wedding Belle
Gin and Dubonnet Rouge form the basis of this drink spiced with orange and cherry. The recipe results in a more traditional wedding drink that carries an infinite array of taste mixtures. The single-serving recipe is:
* 3/4 oz gin
* 3/4 oz Dubonnet Rouge
* 1/2 oz cherry brandy
* 1/2 oz orange juice
Preparation: Pour ingredients into a cocktail shaker filled with ice and shake well. Strain into a chilled cocktail glass.
The Baby Bellini
Finally, you do not want to overlook your guests who may not drink alcohol (and that could include the bride and groom!). The classic peach and Champagne cocktail from the 1930s called the Bellini has been re-imagined as a non-alcoholic drink called the Baby Bellini. It's a perfect non-alcoholic alternative for a wedding reception, wedding shower, or other occasion. For a single serving, simply pour 2 oz of peach nectar into a Champagne flute and slowly add chilled sparkling cider.
These are just a few of the alternatives available for wedding drinks. With a little research, your wedding festivities can be known for their imagination as well as for their fun and romance!