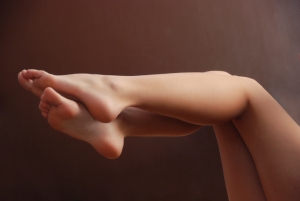 Want to make your wedding and honeymoon truly memorable? Then think of your choice of lingerie as a "hers and his" arrangement: something beautiful and chic for you, and something sexy and alluring for him.
For wearing under your wedding gown, you'll want something that strikes the right balance among comfort, control and sex appeal. This may mean choosing between pantyhose and a garter belt with stockings, or between a loose chemise and a control garment. You may want to surprise your new hubby with a G-string, but is that really an undergarment you could stand to wear through a long day of wedding ceremony and reception (especially if your new mother-in-law notices your panty style)?
For your wedding night, relax - there's no right or wrong answer to your choice. What matters is what you feel comfortable wearing (no, we don't mean a flannel nightie), what's within your budget, and what will bring that sexy sparkle to your husband's eyes.
For starters, don't stress about when to put on your wedding night lingerie. If you are spending your wedding night in the same hotel where the reception took place, all you may have to do is take off that beautiful gown to reveal a lacy bra and garter belt. Or you could let him use the bathroom first, then take your time so that you can appear in a sexy baby doll outfit or enticing peignoir set.
How sexy do you have to be on your wedding night? Again, the choice is up to you and your new spouse. Some men prefer their brides to be sweet in pink and lace, while others like the stimulation of vivid colours such as a racy black-and-red combination. If you're feeling at all self-conscious, many brides find that baby doll sets work well. They can be as sweet and demure or as outrageously sexy as you and your lover like.
You will also want to consider how complicated the lingerie is to put on. At the very least, you're likely to be tired from the day's festivities and a bit nervous about the wedding night. If the lingerie is complex, save it for another night; it will simply add to the honeymoon's sparkle.
Furthermore, your wedding night is no time to worry about your body, even if you're a plus-size bride. Choose the lingerie styles that make you feel good when you try them on, and don't select something just because a salesperson says it's the latest risque model. Most lingerie shops and department stores stock regular and plus sizes. Besides, your husband already loves you and your body; he married you, didn't he?
And speaking of wedding night lingerie, don't forget that your groom deserves a little something as well. Imagine the look on your new husband's face if you present him with silky robe or a pair of boxers, especially if he's a "tighty-whities" kind of guy. The sensual feel of silk against the skin can put both of you in the right mood for a wedding night to remember.