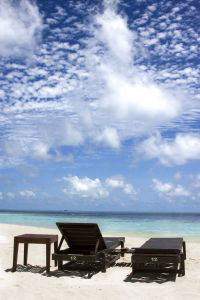 Packing for your honeymoon may seem something you can do last-minute but it's really something that shouldn't be left until the last minute. That's because in the stress of getting ready for the wedding, you are likely to forget something that's absolutely crucial for the trip.
The lists below are only partial guidelines for honeymoon packing. You will definitely want to add your own items depending on your honeymoon destination. Start to pack your honeymoon luggage at least a week before you leave. Keep your packing list with your luggage and check off things as you pack them. That way, you will have some sense of what's fitting into the luggage and where things are.
A good rule of thumb is that anything truly essential, such as travelling papers, medications, etc., ought to go in your carry-on bags. Remember that different airlines have different requirements regarding what toiletries you can take on board. Also, it's wise not to pack anything especially valuable, including jewellery, for your honeymoon. Save that for a romantic dinner after you get home.
In particular, make sure your carry-on includes:
* Passport, visas and driver's license
* Airline tickets or e-ticket confirmation
* Hotel/theatre reservation fax confirmations
* Credit cards
* Phone numbers for your credit card companies (in case your cards are lost or stolen)
* Traveller's checks
* Photocopies of all of the above, plus a photocopy of related medical and/or trip insurance coverage and prescriptions. Keep these copies in the room safe, or leave them at the front desk to be place in the hotel safe if the room doesn't have one.
In addition, pack prescription medicine in the original container and contraception in the carry-on.
Assuming that the honeymoon will last a week and heads for a sunny destination (as most honeymoons do), the bride should pack the equivalent of five casual outfits, plus one good sundress and one cocktail dress. Rounding out this wardrobe are two swimsuits, swim cover-up, a light jacket or sweater, underwear, walking shoes, sandals and/or dress shoes, toiletries and accessories.
The groom's luggage (adjusted for duration, destination and activities) should also include clothes to make five casual outfits, 2 pairs of walking shorts, 1 or 2 swimsuits, walking shoes or sandals, a jacket or pullover, a sports jacket, a tie, nice shoes, socks, toiletries and underwear.
In addition you'll want a bag packed with common items such as a camera with extra film or digital memory; sun hats or caps, sunscreen and lip balm and sunglasses; a beach bag or day pack big for a water bottle, camera etc.; a guidebook, a money belt or "bum bag" (but wear it in the front to foil pickpockets), plus extra toiletries in travel sizes.   It's also a good idea to make up a first aid kit containing adhesive bandages for blisters and other minor injuries, aspirin or other pain reliever, antacid, antihistamine, medicine for diarrhoea and motion sickness, feminine sanitary supplies and a bottle of aloe vera.
You may also want to pack some extra conveniences, such as plastic bags of different sizes for packing wet clothes or protecting cameras; eye drops, a sewing kit, stain-treating cloths, antibacterial lotion, compact umbrellas or rain ponchos.
Perhaps the most important honeymoon items are the things you leave behind with family or friends: A complete itinerary including hotel telephone numbers and addresses; photocopies of all your passports, credit cards, receipts for travellers checks; and sealed copies of your wills, life insurance policy serial numbers and contact information and any pertinent financial data that might be needed if you run into trouble.
With thoughtful packing, you should be ready for anything on your honeymoon.