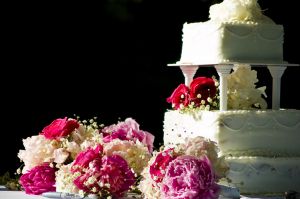 Who says a wedding cake has to be all white? And who says that all wedding cakes must taste awful - dried out and too, too sweet? These days' wedding cakes are becoming an art form that's as astounding to look at as they are delicious to eat.
Don't believe it? Consider some of these spectacular celebrity examples:
How about the cake created by pastry chef Cedric Barbaret for the wedding of real estate billionaire Donald Trump and Melania Knauss? We're talking seven tiers of orange Grand Marnier chiffon cake, measuring 5 feet high, weighing 50 pounds and bearing 3,000 roses made of white icing.
Actor Pierce Brosnan ("Bond, James Bond") and Keely Shaye Smith chose a six-tier carrot cake for their wedding in Ireland. The cake was modelled on the one served at the wedding reception of John F. and Jacqueline Bouvier Kennedy. Set on a topiary tablecloth embroidered with roses and gardenias, the Brosnans' luscious cake was topped with crystallized edible flowers created by Keely's mother Sharon.
Some celebrities like to go for the really big effect with their wedding cakes. Actor Blair Underwood and his bride Desiree ordered a six-and-a-half-foot Eiffel Tower wedding cake complete with lights on the structure and a replica of the couple in their wedding outfits. And most people have heard about the monster gourmet cake served at the New York wedding of actors Michael Douglas and Catherine Zeta-Jones: a five-tiered wedding cake standing 4 feet high, covered with thousands of edible sugar flowers, and costing £7,000!
Now of course these spectacular wedding cakes are beyond the budget for most brides and grooms. However, the point is that imagination plays a major role in creating the edible tribute to the happy couple.
Don't like vanilla cake? No problem. Choose your favourite flavours for each wedding cake layer. Think pistachio, lemon pound cake, even strawberry shortcake iced with butter cream frosting. You might try exotic flavour mixtures such as berry and coconut, orange and dark chocolate, even triple chocolate cheesecake!
Don't be limited to a traditional white frosting, either. Your wedding cake can carry out the colour theme of your wedding whether it's pastel or vivid shades. It can be adorned with any kind of flowers, chocolate lace, sugar ornaments, even Swarovski crystals. Bride-and-groom cake toppers are somewhat out of style these days, but if that's what you really want, then go for it.
One way you can really have fun with a wedding cake is to include a groom's cake in a symbolic or whimsical style. Is the groom a librarian? Then make his cake look like a stack of books. A groom's cake for a sports lover can include anything to symbolise his favourite activity, such as a cricket bat, a football or oars. The groom's cake could be decorated with a King of Hearts playing card design to show what a romantic he is, or with a bright red airplane to symbolize his pilot's licence.
The most important thing to remember when crafting your wedding cake is to choose a seasoned pastry chef to create your cake. You want a memorable confection that is both beautiful and delicious!