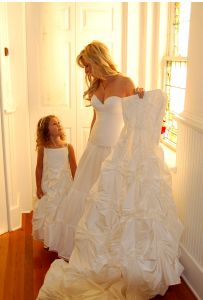 There's good news and bad news when it comes to choosing the perfect wedding dress.
The bad news is that your ideal of a bridal gown may not look as good on your figure as you dream it will. The good news is that there's a wedding dress hanging on a rack somewhere that will transform you into the stunning bride you envision being on your wedding day.
The trick is to understand your figure first, and then seek out the wedding dress that works with your shape, not against it.
There are five basic feminine body types. Here are some guidelines on how to determine your shape and which style of dress will be best for you. Whatever shape is yours, embrace it and love it because your fiance certainly does!
Curvy
You are the shape so many of us dream of being, the one with the hourglass figure, and your wedding day is certainly the time to show off those curves!
The best gowns for you start with a fitted bodice. A mermaid-style or dropped-waist dress also would be perfect. Among other styles to enhance your figure:
* A sweetheart neckline that imitates your curves;
* A contrasting sash to show off that great waistline.
* Dropped waistlines that land below your hips, to embrace your curves but still provide lots of movement.
Avoid plunging necklines or excessive displays of skin and empire waistlines that detract from the focus on your face.
Pear-Shaped
Many a woman has a pear shaped body, which is larger through the hips than in the bust. You can even out a shape like this with a waistline above your natural waist, such as en empire style. You can also draw attention upward and away from your hips by choosing an unusual neckline or eye-catching bodice details. Other flattering styles:
* A striking one-shoulder neckline to direct attention to the torso;
* A full skirt topped with a fitted bodice to help define your waistline.
* Empire waistlines, falling right under the bustline, create a long-torso look that de-emphasizes your hips.
Avoid slinky fabrics that cling your hips, along with sheaths, dropped waists and mermaid skirts that will make your hips look bigger.
Petite
Tired of "little girl" styles just because you are a woman of smaller shape? Then go for a super-sophisticate style with a modern sheath. A sheath's silhouette will lengthen your look, but be careful about the height of your hemline. Too long or too short will make you look like that little girl masquerading in mother's dress. A trumpet or A-line style offers an option for a more formal look. More flatter details:
*A V-neckline adds to the vertical line of the gown, giving an illusion of height.
* Likewise, V-shaped embellishments on the bodice, such as lace or beading, also will elongate the torso.
* Trumpet skirts are best for a full-shirted look. They can be enhance further with overlays of light tulle or sheer lace.
Avoid too many embellishments, especially huge bows and giant flowers. Tiers that are too "poufy" are likewise a no-no; you will look like your wedding cake!
Tall and Slender
Women who are tall and slender have some terrific options in wedding dresses. To show off that long, lean shape, choose a sheath in a silky fabric that has lots of flow and drape. Should you want to downplay your height, such as if you and your groom are close to the same height, choose an A-line ball down to put volume in the skirt. Other flattering details:
* Halter, bateau or jewel necklines that site close to your collarbones will draw attention to your face.
* A defined waistline will give the illusion of more curves.
Avoid anything that adds to your height: high heels, elaborate headpieces, or high hairstyles.
Apple-Shaped
Afraid you will have to wear a gunny sack for your wedding? Fear not, oh, plus-sized bride! Remember that the earliest Earth-mother goddesses were shaped just like you, and on your wedding day, you can be as impressive as they were. Look for a gown that will draw attention away from your apple shape with details like ruching or beading around the waist. Choose a V-neckline to give an illusion of a longer torso, or a scoop neckline if a V is a bit too daring for you. Look for these flatterers:
* Wide straps on a sleeveless gown help to even your figure. Plus, they'll cover your bra straps.
* A gathered waistline gives the illusion of a toned tummy.
* If you have the legs for it, consider a hemline above the knee.
Avoid necklines that are off-the-shoulder or too high. You need more vertical not horizontal emphasis to your gown.