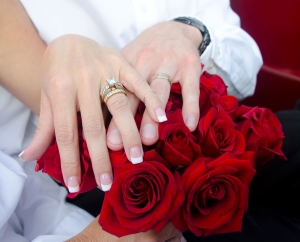 Whenever   famous celebrities gets engaged, the first thing we want to witness is their jaw dropping engagement ring. It is a fact that celebrities love to show off their engagement rings. Here is our pick of the top five most popular celebrity engagement rings.
Coloured Stones have gained much popularity lately due the most recent Royal Wedding. The famous blue sapphire ring that used to grace Princess Diana's finger is now on Kate Middleton's finger. Prince William wanted her to wear his mothers ring with its 18 carats and diamond surrounding, t0 honor the memory of Diana on their very special day.
The Marquis Shaped Diamond Ring was the famous ring that Michael Douglas gave to Catehrine Zeta Jones when he proposed to her just after 10 months of dating. It is a beautiful vintage ring with 10 carat diamonds set horizontally. The ring is inspired by the 1920's with 28 smaller stones surrounding the large 10 carat diamond. It is estimated to be worth £1.25 million.
The Asscher-Cut Diamond Ring was seen on famous celebrities Reese Witherspoon and Gwyneth Paltrow. This type of ring would cause the eyes of vintage and antique style fanatics to ogle.
The Emerald Cut Diamond Ring is the most timeless and classic symbol of affection for many women including celebrities. Grace Kelly was given a 12 carat, emerald cut engagement ring with featured baguette diamonds on each side. In 1955, the ring was given to her by Prince Rainer of Monaco.
Canary Diamond is definitely a beautiful ring which graced the finger of Heidi Klum. When Seal proposed, Heidi Klum was presented with a rare Lorraine Schwartz 10 carat canary diamond set in yellow gold.
Getting engaged is one of the most exciting times that could happen in any woman's life. If you are a guy looking for some ring inspiration, you can always scout some similar styles worn by famous celebrities and give them to your lady love.