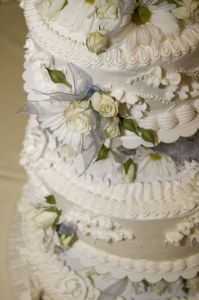 What is it that is the second most important detail of a wedding after only the bridal gown? What is it that all of the guests, young and old, male and female will remember several years down the line when all else is forgotten?
Your wedding cake! Traditional tiered wedding cakes have set the stage for an amazing display that now puts the bride's bouquet to shame! What is it that has made today's cakes so special? It is a special combination of tradition and creativity.
The tradition of a beautiful wedding cake has not changed. One of the things that almost every bride wishes for in addition to a stunning gown is an amazing wedding cake. This cake must reflect both the bride and groom's personalities and their love for each other. No two cakes are exactly the same. The flavour, colours, toppers and other aspects frequently differ. This is one way that every couple's creativity can be seen. Each new wedding cake adds to the splendour of the wedding cake tradition.
Choose Interesting Shapes
Wedding cakes now come in almost as many shapes as they do flavours. It is not unusual to see wedding cakes that vary in shape or size. You can get either symmetrical or asymmetrical cakes. Some weddings even offer tiny tier cakes made of cupcake size tiers. Each tier is meant to be enough for one person. Yes, that's right; you could serve each guest their own three tiered, one serving cake! Shapes and sizes barely compete with colour. Colours found on cakes are even more diverse.
Choose Creative Colours
With the widening colour palette of darker or brighter hues being brought to life by today's brides, you can see wedding cakes in nearly every colour. Chocolate icing is no longer uncommon on a wedding cake, nor is the colour black. Black at a wedding? Yes. One of the hottest trends currently, is bold contrast between black and white. Large black patterns on the sides of a wedding cake are the height of elegance.
Another popular trend is the use of many bright colours together. One of the most striking cakes I have ever seen had a deep magenta layer, a yellow layer, and a blue layer. I was shocked when the bride told me what she had picked, but after seeing how beautiful it was I understood why. It really complemented her choice in flowers. These are not the only changes in wedding cake décor.
Choose an Untraditional Cake Topper
The traditional topper may go by the wayside also. The once popular look a like bride and groom standing on top the cake have been replaced. Now you may find in its place a barrage of items. The couple may be present but posed in unusual fashion or there may be no brie and groom at all. Instead you may find a bouquet of flowers, or anything from toys to tools. Whatever your taste, you can incorporate your style into the décor of your wedding cake.
If classic wedding cakes are what you prefer then by all means this is what you should choose. If you fancy a bit of flare try your hand at creating a cake more suitable for you. Anything that makes you happy is acceptable. Have your cake and enjoy it too!