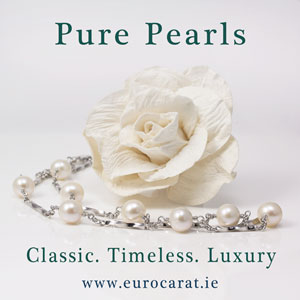 A lot of time and money goes into selecting your perfect dress and other accessories sometimes leaving the budget tight when it comes to the final jewellery touches.
At Eurocarat.ie Online Jewellery Shop we understand that your bridal TO DO list seems endless and hunting for earrings or necklace to match your dress may not be the best use of your time just before the big day. That is why we've done the work for you, and offer suggestions for bridal jewellery that will enhance your style without breaking your budget.
If your dress or gown has a sweeping open neckline and bare shoulders, you may add one single strand of pearls or a very delicate necklace, but it is not imperative to do so. Sometimes the most elegant bridal looks feature no necklaces at all. Your earrings, wedding ring and a simple bracelet will be more than enough.
Don't underestimate the elegance of one single pearl accented by diamonds or cubic zirconia on a slender chain. For a bridal necklace that's tasteful and just enough to add a little sparkle and lustre.
One of the most elegant ways to accent a wedding gown is with a simple gold diamond pendant necklace and earring set but it needn't be the only option. If your exquisite taste in jewellery is currently a little more exquisite than your bank account you can choose 925 silver and zirconium jewellery. CZ is a synthetic gemstone that is both durable and inexpensive. It's more affordable yet just as beautiful. Zirconium pendants and earring sets are not as expensive as you might think and it's a classic way to add sparkle without investing in diamonds.
Silver is simply more becoming on many women. You can pair white gold earrings with silver bangles, silver chains and silver pendants because the difference between silver and white gold is not readily apparent, both being white metals.
Pearls are a timeless favourite and provide the perfect emphasis on a carefully designed elegance that has taken you months to put together. At www.eurocarat.ie, bridal 14ct gold pearl necklace sets start at just under €99 and go up from there, but there are many choices for bride and bridesmaid that are under €99, and even some cheaper little pieces like silver pearl bracelets for €39 and earrings for €29 and simple strings of pearls for €59 and there are really real freshwater pearls! With our wide selection of freshwater pearls set in elegant designs, you're sure to find the perfect piece to accent your beauty on your big day.
It's all there, easily laid out in our online jewellery shop www.eurocarat.ie and ready for you to click without searching shop after shop. We're open 24 hours which means that you can shop whenever you want – day or night. In addition to that, to ease your mind our 30-day return policy means RISK-FREE on-line shopping! And all deliveries are FREE in Ireland.
Since this is your most special day, make the best of it, feel beautiful and find the bridal jewellery that is right for you. Feeling comfortable with your jewellery is also very important. It's your inner beauty that shines the most on your Wedding day, but it doesn't hurt to have a little shiny on the outside too!