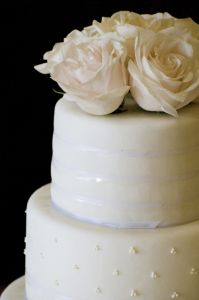 Your wedding cake is one of the highlights of your wedding day.
But with all the wedding cake designs for you to choose from, how do you decide which one you really want to have? Books and magazines are a good way to help you look for your dream wedding cake. Another important thing to do is   find a cake maker and see samples of their cakes to find out whether they can actually create the wedding cake you want.
Here are some things you need to think about when ordering your wedding cake:
Your Wedding's Colour Scheme
Traditionally, the wedding cake is iced in white. You may stick to that tradition or join the popular trend of having a cake iced in your own choice of colour. Opting for coloured icing is great as it's one of the many ways to make your wedding more unique and special. You might also want to match the cake decorations with the colour of your wedding's flowers and entourage.
Choose the Ingredients of your Wedding Cake
There are so many wedding cake flavours to choose from. Chocolate, sponge cake or carrot cake are popular choices. Choose something that you yourself would want to eat on your wedding day. Some couples want to keep the top layer of their cake for their first anniversary. If you're planning on doing that, make sure to have fruitcake for the top layer. You can have a different cake type for the lower layers.
Choose the Size of your Wedding Cake
To choose the right size of your wedding cake, make sure you know how many guests are coming to wedding. You might also want to match the size of the cake to your wedding theme and atmosphere. If you're going for a simple, intimate wedding, choose a cake that's not too big.
Wedding Cake Decorations
To give you some inspiration on what decorations to put on your cake, it's best to browse through books and magazines. Wedding cakes usually have a flower decoration, iced or fresh. You could also put some cake toppers to match the cake.