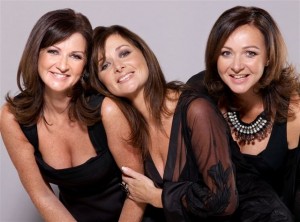 The Vard Sisters
It is by now a well known, yet still fabulous story. The Vard Sisters Cathy, Lisa & Wendy were singing at a wedding in Dalkey in 1996 when one of the guests happened to be a Sony representative.
He was so struck by the quality of their voices that he rang Cathy a few days later to express interest in them professionally. Initially, Cathy thought he was looking to book them for another wedding but she soon realised the importance of the call. Within a week the three of them were sitting in the offices of the managing director of Sony Ireland discussing their first album.
It was swiftly decided to use their own name and to concentrate on the spiritual music that formed their original repertoire As Cathy remembers, "It all moved so fast. Once we had agreed contracts, we then planned the music. The actual recording of the album took just two weeks – which I think is a record for the business."
Heavenly
'Heavenly' was released in 1997 and was an instant hit. A total of 17 songs were taken from sisters' extensive repertoire of classical and modern pieces, including a fantastic rendition of "The Flower Duet" (better known as the music to the British Airways TV commercial), classics like "Amazing Grace", "Ave Maria" and "Nearer My God", and three original songs, "The Hermit Song", "The Hiding Place", and "I Rejoiced". The album went triple platinum, selling in excess of 100,000 copies – unprecedented in Ireland for a new act.
The speed at which the album took off surprised everyone, including the sisters themselves.
Before Pop Idol
"Before Sony, we grew up in Dublin where our involvement in music was just one part of our lives," says Cathy. "We knew we had good voices but did not expect to become recording artists. Pop Idol did not exist in those days!"
At school the sisters were given principal leads in all the major musical productions, and as their confidence grew they would perform a song or two at family and social gatherings. It became clear that their voices, while individually unique, became a powerful and emotive force when combined as one.
Cathy, as the eldest, finally realised she wanted to do more than sing socially. She attended the Royal Irish Academy of Music, the Dublin College of Music. She and her sisters began to sing at weddings as a favour for their friends. Soon, through word of mouth, they were getting so many requests to do so, without realizing what was happening, the Vard Sisters had become a professional singing threesome.
Back at that Dublin Wedding, fate stepped in. "Our album went straight into the charts and stayed in the top twenty for thirty six weeks. The record company naturally were thrilled and we enjoyed and still enjoy all that goes with the profession; the interviews, appearances on TV, radio etc," says Cathy.
Following the unprecedented success of the album, the Vard Sisters appeared as guests on what seemed like every TV programme in the UK and Ireland, including The Late Late Show, Open House, Ireland AM, Richard and Judy, GMTV, The John Daly Show, Kelly, MTV Europe Irish Special and the Light Lunch (to name but a few) confirming their widespread appeal.
Fame Beckoned
In the intervening years, they have recorded two further albums and have performed at such prestigious venues as Dublin Castle for Bill Clinton and the American Ambassador's Residence. They also performed with Westlife for the Westlife Christmas Special Concert in Temple Theatre and with top Irish tenor Finbarr Wright in the Cork Opera House and University Concert Hall / Limerick.
They have performed extensively both at home and abroad over the last few years, including Germany and Belgium. They have also played to packed houses in the Gaiety Theatre and the Cork Opera house for two weeks with the Celtic Tenors and had a sell out tour in Autumn 2002 sponsored by AIB.
Throughout their continued fame, they have not neglected their original beginnings and continue to sing at weddings in Ireland and abroad.
Weddings Still their first love
"Over the summer, I sang at Georgina Ahearn's wedding in France," says Cathy. "I sang five songs during the service which would be the norm. It was a great occasion.
"Most couples want the three of us to sing which also gives them a larger choice of music as they have three albums to choose from. The choice of music is very much the couples' decision but we like to guide them in their decision making as we know what really works and leaves a lasting impression. We can provide the full orchestral sound by using our backing tracks and we use the best musicians in the business.
"In a service, we normally sing six songs chosen by the bride. We aim to provide the most professional singing and having our own musician ensures that we can create the most beautiful results."
The unique harmonising of the Vard Sisters is akin to the sound of angels. "It's ironic that even with all the events we have sung at, performing at weddings still gives us a great thrill just by being part of such a special day," conclude Cathy.
Contact details:(Tell them that WeddingsIreland.com sent you!!)