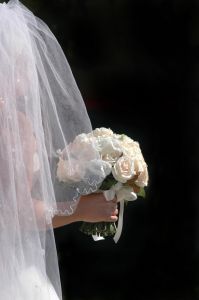 Making A Style Statement With The Perfect Bridal Veil
While most brides will pay a lot of attention to the gown & all its accessories, the bridal veil is largely considered as an "optional" part of the bridal attire. Whether a bride wears a veil or not is purely a matter of choice. Some brides opt to go without a veil for a more casual look. However, if you really want to look stunning on this special day, a veil is the perfect choice. A beautiful bridal veil can grab the headlines and offset your dream dress like nothing else can.
If you choose to wear a wedding veil, there are a few important things to keep in mind:
How to Select the Perfect Bridal Veil
• When you choose your bridal veil, make sure it coordinates with the style of your wedding dress. You can find veils in an assortment of lengths and styles to choose from. A cathedral length bridal veil will look stunning when coupled with a gown with a long, flowing train. If your gown is shorter and has a more casual feel, an elbow length veil may be a more appropriate choice. Trying on your bridal veil with your gown before you make a final decision will take away the guesswork and allow you to make the perfect choice.
• Brides have worn veils to cover their faces for decades but some women prefer to wear the veil towards the back for comfort. You can find bridal veils designed for either look, with single or multiple layers of fabric. Double layered veils are perfect for gently hiding your face as you walk down the aisle, as is tradition in many families. Three layer veils have a beautiful layered look as they cascade over the back of your dress. Layered veils worn down the back create a soft, romantic look. Bridal veils with a blusher to cover the face offer a more seductive feel to traditional gowns.
• Bridal veils are available in simple styles or adorned with pearls, beads or ornate sequins. You can choose an ornate veil to compliment a sequined gown or to add some glamour to a simple dress. Simple veils are often the perfect choice for exquisite, beaded gowns. Choose a veil that will complement the style of your wedding gown, without distracting from its beauty. You can also find veils trimmed in lace, for an heirloom effect that looks great with a gown covered in pearls.
How to Wear a Bridal Veil
Bridal veils are very simple to wear. If you choose to wear your hair in an elegant up-do style, you can attach the veil to your hair with a simple clear comb that is sewn into the veil. You can also secure a veil by attaching it to a tiara or a ring of flowers or pearls. Both options create a romantic effect and insure that the veil remains securely in place throughout the ceremony.
If you are a contemporary bride with a soft spot for tradition, a bridal veil is the perfect accessory for your wedding day. Yesterday's brides wore veils over their faces as they approached their grooms. The bride's father would gently lift the veil away from her face to symbolically "unveil" her to the groom. This was a way of transferring ownership and responsibility of the woman to her new husband. It was a beautiful part of traditional wedding ceremonies that some brides wish to continue.
Whether you wear your veil to honour tradition or simply because it compliments your dream gown, choose one that offsets your look and you will be radiant on your wedding day.