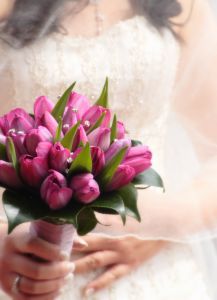 Every bride dreams of looking flawless on her wedding day but what exactly is the perfect look for a wedding? People vary in their opinions of what flawless means. Does a bride have to wear a traditional white gown to achieve the perfect bridal look? Can a girl break tradition and still look fabulous on her wedding day?
Let's take a quick look at how wedding wear has changed over the years. Brides have always tried to look their best, whether they wore traditional white dresses or got married at a courthouse in a pair of casual trousers.
Keeping Tradition Alive
Something Old; Something New
Something Borrowed; Something Blue
The old adage remains and it has set the standard for what brides should wear for centuries. Many brides like to maintain this tradition by wearing an heirloom piece of jewellery with their new gown. They typically borrow earrings or a bracelet and wear a garter under their gown with subtle shades of blue.
Here Comes the Bride
All Dressed in White ~
These words have been the anthem of traditional wedding for decades. So what happens when a bride decides to deviate and wear a colour other than white? This happens quite frequently today, as brides want to wear a gown that reflects their personal style and preferences.
Some brides deviate from white by choosing gowns in richer ivory shades. Ivory and off white looks better on women with olive skin tones. Many women choose off white as a way to insert a personal touch into a well worn tradition.
Today's brides can even find white dresses accented with touches of other colours. Adding a coloured sash to a traditional white bridal gown is a popular trend among young brides who want a contemporary wedding. While white is still the most popular colour choice for wedding gowns, today's brides wear white only if they want to.
Seeking Newer Horizons
Many couples choose to totally deviate from tradition and exchange their vows in destination weddings. People can now get married in a variety of exotic places, from the romantic backdrop of the Taj Mahal to the silvery white sands of the Bahamas. When a bride chooses a destination wedding, she will need to adjust her bridal dress accordingly.
Brides who get married beside the ocean often choose silky dresses that float in the breeze. Beach weddings call for simplified bridal looks with casual versions of traditional wedding wear. Brides who choose to travel to India might want to wear the traditional Indian dress, a heavily embellished sari in rich, bold colours.
No matter where you choose to get married, you can achieve the perfect bridal look with a little thought and creativity. Choose the dress of your dreams, whether that is a traditional white gown or an elaborate Indian sari. Your wedding day is a once in a lifetime event, so make sure you feel great about yourself in whatever you choose to wear.
The dress is not the only thing that will help you achieve your dream bridal look. Hair, accessories and shoes can make a huge difference to the overall appearance but what if you went a step further and did something a little more dramatic for the big day – how about laser eye surgery? I know that this type of procedure is done really easily in places (click here for  more information) and won't need much recovery time.  It sounds a bit crazy but if your wedding day isn't an excuse to get rid of those glasses or contact lenses and showcase your new eyes, then I don't know when is.