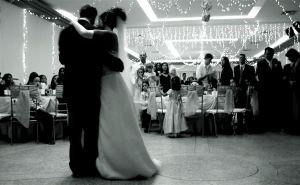 The newly married couple's first dance is one of the sweetest moments during a wedding celebration. For couples that love to dance, this ritual is a great way to show off their talent. But for those who do not really dance, the first dance can be a source of stress.   So, how do you prepare for your first dance? What are the things you need to do and where do you start? Below are some tips that can help you:
What kind of dance do you prefer?
Would you prefer a jazzy foxtrot or a classic waltz? Perhaps, you can try doing a slow rumba or a sexy salsa. Of course, you can also have a simple slow dance, especially if you really aren't into dancing.   Remember that some dance styles are more difficult than others, so time may be a big factor in your decision.
Will you be dancing to a recording or will a band be playing your song?
This also plays a huge factor in making your song choice. Most bands know how to play standard wedding songs, but you still need to let them know in advance. The bandleader should also know what tempo they should be playing and for how long. If you have a particular recording of your song, make sure to give a copy to your bandleader so that the band knows the type of arrangement and mood you want.
How will your first dance begin and end?
Your DJ or bandleader will call you and your partner out to the dance floor and announce your first dance as a newly married couple. Usually, the father of the bride will eventually cut in and dance with the bride, at which point the groom may ask the bride's mother to dance. Then, the groom's father will cut in and ask to dance with the bride. The bride's father will also cut in and dance with his wife. The groom may dance with the maid of honor and the bride will dance with the best man, while the in-laws dance with each other. Finally, the guests may join in the dancing. Of course, that is only a guide and the decision still rests with you and your partner. It is important that you notify anyone who is included in the dance and give him or her clear instructions on when they should join the dance and with whom they should be dancing.