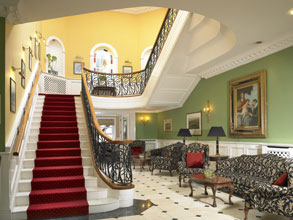 The 4* Dromhall Hotel in Killarney, County Kerry, has just launched a fabulous new winter wedding offer. The offer includes a 20% discount on your menu of choice plus 5 complimentary rooms on the night of the wedding. But here's the unusual bit! This offer is not only valid for selected dates in the regular winter months of November, January, February and (more often than not these days) March, but it's also valid for certain dates in April! Not usually your traditional winter month of course, but with the weather we've been having the last few years, why not!
The beautiful Shelbourne Suite at The Dromhall Hotel can cater for weddings from 70 to 300 people. It's a very flexible room and so looks perfect for any number of guests between the minimum and the maximum. For smaller, more intimate weddings, other venue options with The Dromhall include The Abbey and the Deerhunter Suite. The hotel is also a licensed venue for Civil Ceremonies, in all of the above mentioned rooms.
With weddings now lasting more than just the day itself, you may want to choose a venue that can offer you options for the day-after celebrations. Well The Dromhall Hotel can certainly do that. The Deerhunter is a private suite, with its own bar and an adjoining Drawing Room for the younger family members maybe. Or there's the Gallery area off Kayne's Bar or Kayne's Bistro for a sit-down meal get together.
Whatever your plans, if you're considering County Kerry for your 'winter' wedding, check out the wedding page on The Dromhall Hotel's website – http://www.dromhall.com/wedding-hotelkillarney.html or contact Sue for further information on 064 66 39300 or [email protected].
Expect more from Killarney's Dromhall Hotel.