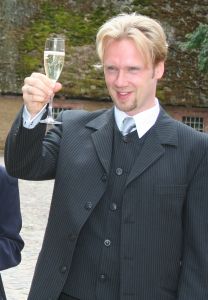 Making a wedding speech is always a challenging task, unless you have done it countless times.   And because every newlywed couple is different, you don't want to recite a generic speech from the internet.     A wedding speech should be personal each and every time.  So how do you make it sound sincere, genuine and enjoyable to everyone? What are some points you need to keep in mind?
Preparation is Key
Delivering a speech requires preparation. Make an outline of the things you really want to say.   Your speech also depends on your role in the wedding.   The father of the bride's   speech is different from that of the   best man.   Write down keywords on cards to help keep your speech stay on track..
Make it Personal
Start by introducing yourself and telling the guests how you are related to the couple. You can tell a short story about the couple, which not many guests have heard. Also remember to keep it short and straight to the point so as not to bore everyone, but do include interesting details.   It is always good to wrap up your toast with a wish or a blessing for the couple and their future lives together.
Engage the Audience
Aside from the couple, you are also talking   to the crowd.   Establish eye contact.   This will help build rapport with them and make your stories more believable.
Do not make any inside jokes that only you and the couple know. This may make your audience feel like they're outsiders.
Remember to Say Thank You
End your speech by making all the necessary thank yous.  Thank the planners and entourage who have played an important role in the wedding preparation.    Thank all the guests for their love and support.   Thank the parents for everything they've done. Take this time to give compliments and say anything special to the bride and groom.