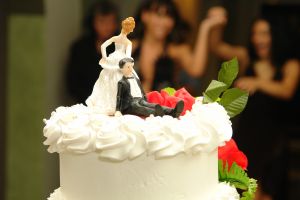 10 Helpful Suggestions to a Stress-Free Wedding

The run up to the wedding day can be unbelievably hectic and you are bound to come across several stressful situations as you iron out the inevitable hitches. However, if you want to look radiant on your wedding day it is important that you learn to overlook the small stuff and stay as relaxed as possible.
Quit worrying; even if the wedding cake topper doesn't look exactly the way you imagined it would or if the napkins are a shade lighter than you wanted them to be! Trust me, your guests are never going to notice these small things. Most of them will be too taken in by the moment to notice these things. Just relax, breathe deeply and remember that the ultimate goal of the day is simply to get married to the one that you love. Having said that; you can still take a few precautions in advance to reduce the stress on your wedding day.
1. Choose Your Wedding Cortege Carefully
If you are planning on having a bridal cortege, invite only people you can rely on. Don't feel compelled to include somebody you do not want to. Give each person a copy of the day's schedule. If you have any children under the age of three in your bridal party, have one of the attendants walk with the child or have them walk with a child who is a bit older.
2. Obtain Vendor Contracts
Have every vendor sign a written standard contract with each service agreement. Specify exactly what you want and do not want by contract before you make your bookings. Never wait until the wedding day to make huge changes. Also, ensure that you order enough place settings, food and drinks for your guests. It would be ideal to order a little extra, just in case there are some unexpected last minute arrivals.
3. Delegate, Delegate, Delegate!
It is important to learn how to delegate, most of all on your wedding day itself. Make sure one person is in charge of paying off the vendor bills, another person is in charge of transferring the guest book from the ceremony to the reception, another person is checking on the caterers, etc. Assign one task per person and make sure someone is in charge of everything on your list that matters.
4. Be Prepared for Emergencies
Have emergency kits ready for both the bride and the groom. The bride's kit should include clear nail polish, extra panty house, tissue, aspirin, zit removers, hemming tape, static cling spray, band-aids, safety pins, and a sewing kit; while the groom's kit should include breath mints, mouthwash, cologne, a razor, and a comb.
5. Ask Guests to Arrive Early
Ask all of your wedding guests to arrive early, so that there will be no delays when your photographer arrives to the venue and no delays on the wedding ceremony itself.
6. Secure the Rings
It would be smart to fasten fake rings to the ring pillow to ensure that they don't fall off. An adult should carry the actual rings themselves. Also, do not give the ring pillow to the child until they are right about to walk down the aisle with them.
7. Make Sure Your Wedding Gown Fits
Ensure that it your wedding gown fits perfectly before your wedding ceremony. Also, make sure you are comfortable both walking and turning in your wedding gown. Find the easiest ways to do so, so you don't have to hike it up and can avoid tripping on the hem. Learn how your wedding dress moves.
8. Confirm the Details with Vendors
A week before your wedding, make sure you contact all of your vendors for verifications. Have them state the date, location, and time, as well as exactly what you want them to do. Ensure that they know the directions to the venue and have their phone numbers ready, in case they do not show up on time.
9. Eat Something
No matter how nervous you are, it is essential for you to eat before your wedding, even if it is just a sandwich or a vegetable tray. Fainting at your wedding is not something you would like to do, trust me.
10. Take Care of the Major Decisions Yourself
Do not rely on anyone else to choose your music, food, photography, or any other service for you wedding, no matter how close of a relative or friend who offers. Despite their good intentions, you may find yourself in awkward situations if the results are not up to par.