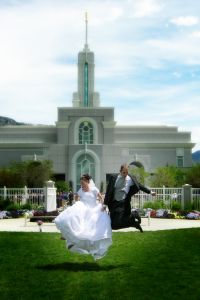 A lot of couples tend to stress out on even the smallest details of the wedding, which the guests wouldn't even notice. Planning a wedding doesn't have to be stressful. You want to look radiant and beautiful on your wedding, so quit worrying.
Here are some suggestions to a stress-free wedding:
Delegate Tasks

It is important to learn how to delegate especially on your wedding day itself. Be sure that you delegate one person to pay off the vendor bills, another person to check on the caterers, another person to check on the entourage, etc. Of course, make sure that the ones you assign these tasks to are reliable.
Ask Guests to Arrive Early

Remind your guests to arrive early so there won't be any delays on the wedding ceremony. You should also ask the bridesmaids and groomsmen to arrive one to two hours earlier so you can have pictures taken with them.
Make Sure that Your Wedding Gown Fits

Make sure your wedding gown fits perfectly and that you are comfortable in walking and turning in it. Try to learn how your dress moves.
Confirm the Details With Vendors

Make sure that you contact all of your vendors two weeks before your wedding to confirm and verify all of your wedding details. Ensure that they know the directions to the wedding and reception site. Have a list of all of their numbers, just in case they get late.
Remember to Eat Something

A lot of couples tend to get so nervous on their wedding day that they forget to eat. Remember that food gives you energy and on your wedding day, you will be doing a lot of things from the ceremony to the reception.
Take Care of the Major Wedding Details Yourself

When it comes to the food, photography, music and program of your wedding, it must be you who should be taking care of them. Do not rely on a friend or a close relative when it comes to such major decisions.