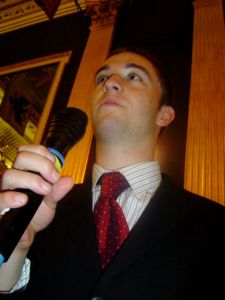 Wedding preparations are not exclusive to planning clothes, cakes, flowers or the reception. Speeches are also very important in weddings and require a more personal touch in terms of preparation.
Traditionally, there is a certain order to follow when speaking at a wedding. It usually starts with the bride's father, then the groom and last, the best man. However, it is now acceptable to create your own order when it comes to speeches, and it isn't unusual even for the bride to have a speech at her wedding as well.
For the groom's speech, it is his chance to thank the guests, his and the bride's family, but most importantly, also dedicate a message to the bride. Here are some tips to give you the most memorable performance on this special day.
Talk as a couple. To start the speech on a lighter note, begin by thanking everybody involved in preparing the wedding. Remember that you are speaking on behalf of you and your new wife, so thank any individual she would also like to acknowledge. It is also possible to make this part a joint speech.
Don't go overboard on humour. If you're naturally a funny public speaker, injecting humour in the speech is good. However, forcing this can leave you in a very awkward situation. Also, no matter how funny you are, making jokes at the expense of the guests and most especially the bride is totally unacceptable.
Devote a part of the speech for your bride. The most important part of your speech is when you talk about your feelings for your wife. Talk about the future you look forward to, and never forget to remind her how beautiful she looks.
End the speech with a toast. The best way to end your speech is with a toast, to your new wife and life ahead.
While all this may sound like nothing you'll ever say on a normal day, remember, there is no better occasion to let out your emotional side.
If you think you can elaborate on these points, go ahead and add more to your speech. Remember that you cannot go wrong as long as everything you say comes from the heart, you're prepared for the speech, and you control your alcohol intake.