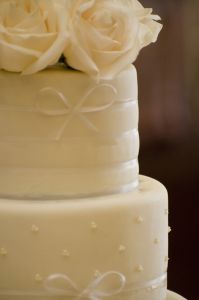 Getting a taste of your wedding cake is one of the things you and your guests will look forward to on your special day. While the traditional white sponge cake is a safe choice, you can also be adventurous by choosing other flavors. Here are some of our wedding cake suggestions:
Mocha Wedding Cake
This wedding cake is perfect for coffee-lovers. You can have a three-layered mocha cake with different coffee-hued icing on each layer.
Marble Cake
If you can't decide between white cake or chocolate cake, choose marble cake. Not only does it taste good, but   it also looks pretty with its psychedelic finish.
Chocolate Cake
Who doesn't like chocolate cake? This cake is a crowd pleaser and will never let you down. Surprise your guests by serving chocolate cake underneath your cake's white frosting.
Carrot Cake
Carrot cake is perfect for an autumn wedding. This cake has a great moist feeling and bit of spice. With it beautiful texture and great taste, your guests will surely enjoy this scrumptious dessert.
Buttercream
Buttercream is the queen of icings. Whether it's plain or flavored, this icing is a wonderful frosting. This frosting easily melts so you might not want to choose this for an outdoor wedding.
Fondant
This frosting works best for those who want to have a cake with an elaborate design and a couture look. It rolled into a sheet and then placed on the cake for a smooth finish. Because of its smoothness and clay-like consistency, it makes a great base for elaborate decorations and embellishments. Fondant is not exactly popular for its taste so you might want to put a think layer of tastier icing underneath the it.
Once you've decided the flavor the you'd like for your cake, choose a decoration and colour for it. Make sure to match the cake decoration to the colour scheme of your wedding.