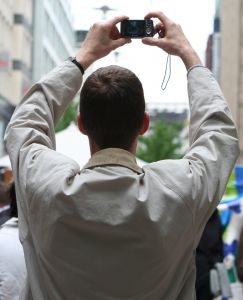 Seeing our friend or family members finally tying the knot is something we would like to remember and share with others.   These days it is quite common for guests to arm themselves with a digital camera whenever they go to weddings. Many couples will have a professional photographer on hand to capture their wedding day, but of course you can also help capture the special more personal moments between family and friends. Here are some tips:
Professional photographers usually concentrate on taking photos of the groom and the bride, so focus on taking pictures with your family and   friends instead of the couple. Captured candid moments of them will surely surprise the couple and give them a glimpse of what their guests have been doing during the wedding.
To make your photos look more professional and clean, try to avoid showing the half-eaten food or   the messy table. Focus on the faces of the guests!
You also need to observe proper etiquette especially in places where the wedding ceremony takes place- at the church, chapel, synagogue, mosque or temple. The rules on taking pictures depend on the place of the worship. Some do not allow you to take photos, while some allow you take pictures but without the flash. Take your cues from the professional photographer.   If you see that the photographer isn't taking photos, don't take photos.  Always remember to take consideration and respect cultural and religious traditions.
Finally, don't get in the way of the photographer hired by the couple. The photographer's responsibility is much bigger than yours during that event.   Respect the photographer and his task.