Most couples today want to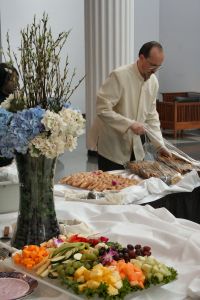 spend wisely and make most out of their wedding budget. Food and drinks, for the most part, take the largest chunk of that budget. We all want to offer our guests a wedding feast that they can remember but not all of us can afford lavish dinners or elaborate buffets.
But did you know that by carefully planning the time and place of your wedding, you'll be able to provide your guests with a memorable wedding feast with delicious and tasty treats while keeping your costs low.
Most weddings happen around brunch, lunch or dinner time, so these weddings would have lunch or dinner receptions. The problem with these types of receptions is that they require a lot of food, not to mention the catering planning and preparation which further inflates costs.
To help keep your catering costs down, why not plan your wedding and reception around other meal times? You'll be surprised at how much cheaper and easier they are to organize than a full-blown wedding reception.
Here are some other types of receptions that you can try for your wedding.
- Salad Reception. Instead of a brunch reception, why not have a salad reception if your wedding is held late morning. A salad reception is more affordable, easier to prepare (minimal cooking involved), offers guests a wide variety of choices (veggie salads, fruit salads, potato salads, pasta salads, etc) and with this type of reception you can easily cater to guests with different dietary restrictions (you don't have to worry about whether your vegetarian or vegan guests would have enough to eat).
- Deli Reception. You can still provide your guests a filling lunch without breaking the bank if you have a deli reception instead of a lunch reception. Offer a wide variety of finger foods (cheese, crackers, chicken fingers, fruit and veggie trays, deli meats), sandwiches, hot and cold beverages (tea, coffee, juices) in sampling portions so your guest could have a little bit of everything without spending too much.
- Tea Reception. A tea reception can give your wedding reception a touch of elegance and a good choice for the teetotalist couples and guest. With a tea reception, you serve tea and coffee with small sandwiches or "dainties", scones, cakes and other pastries.
- Dessert Reception. You can still have a decadent reception on a budget with a decadent dessert party. A dessert party is like an orgy for folks with serious sweet tooth, especially when you offer them a wide variety of cakes, pies, ice creams, cheese cakes, cobblers, candies and tarts.