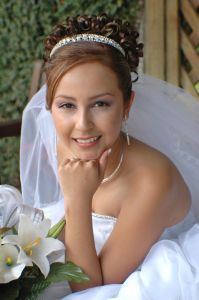 Having great skin means having healthy skin. Aside from your wedding dress, your skin is one of the things that your friends and family would notice as you walk down the aisle. Although a good amount of makeup could conceal some skin blemishes, it would still be a lot better if you have naturally, glowing skin.
Cleanse, Tone, Moisturise and Protect

Having great skin doesn't happen overnight. It is a result of a consistent skin care regimen. Experts say that there are four important steps in taking care of your skin. These are: cleansing, toning, moisturising and protecting. Make sure that you have a cleanser, toner and moisturiser that match your skin. When going out, do not forget to protect yourself from the sun's harmful rays by using sunscreen. If you are not sure what brand of skin care product matches your skin, you may want to visit a dermatologist or a skin expert.
Food
Eating the right food also contributes to healthy looking skin. Stay away from fatty, oily food that may not only make you put on weight but may also take a toll on your skin.
Sleep

You should also get enough sleeping hours. Lack of sleep not only makes you irritable, but also creates dark circles under your eyes and unsightly eye bags.
Facials

Get a facial about once or twice a month to rejuvenate your skin. However, try not to have a facial a few days or a week before your wedding.
Make-up

Remember that make up must be used to highlight your beautiful facial features and not to make you look like a totally different person. Your makeup should also match the time of your wedding. If it's a morning or afternoon wedding, choose something that is more natural. If it's an evening affair, you may want to choose darker shades for your eyes or lips. If you are unsure of what makeup you want to have, have a consultation with makeup experts before your wedding.