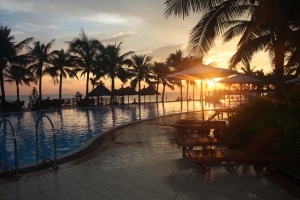 After the fun and excitement of your wedding celebration, another way to truly celebrate a new chapter in your life is through a romantic getaway.  There are a number of ways on how you can spice up your honeymoon with your partner. Check out some of our romantic ideas!
Sunrise
If you are staying at a resort, ask their staff for the best location to see the sunrise. Watch the beautiful sunrise, enjoy some coffee and cherish that wonderful moment.
Write a Letter
Write your partner a letter telling them what you imagine your marriage to be like. Exchange the letters on your honeymoon and then keep them. On your wedding anniversary, read the letters with your spouse to remind you of your first few days of marriage.
Romantic Dinner for Two
If possible, try to have an intimate, secluded dinner. Ask for some advice and recommendations from the staff about where to have a romantic dinner for two. Some resorts can set up a private table on your deck or veranda so that you can enjoy each other's company without other people around.
Walking in the Moonlight
If you are staying at a resort or a scenic place, take a long walk under the moonlight with your spouse. This will give you a chance to enjoy the sights and sounds of the place. Most importantly, this is also a wonderful memory to have.
Breakfast in Bed
Relax and spend one whole morning in bed, enjoying breakfast and cuddling with your spouse. You could also watch your favorite movie or show. This is an amazing way to just chill and spend some quality time together.
Cook Together
If one of you has a passion for cooking, think of a great dish that the two of you can make together. Who knows, this activity might inspire your spouse to learn cooking, too.