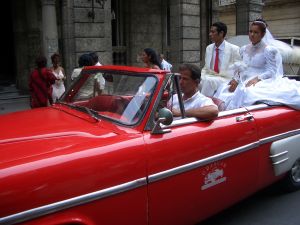 Getting to the wedding on time may be the ultimate goal of wedding transport but getting there in style puts a classy touch to the whole affair. Fortunately, there are as many ways of wedding transport as there are styles of weddings.
Why engage special transportation for a wedding? There are many reasons both stylish and practical. For instance, if there's a genuine fairytale-princess theme to the wedding, and the weather permits, few brides can resist the allure of arriving in a horse-drawn wedding carriage. On the practical side, hiring a taxi or a limo assures that someone outside the understandably nervous wedding party deals with the traffic. Plus, it's much less likely that some fun-loving cousin who's had one too many glasses of wedding punch will decorate a hired car with risque sayings!
As with many services related to a wedding, one of the first qualifications to look for in wedding transport is experience. Transportation companies with many years of experience are more likely to know how to deal with inevitable traffic delays, fretful brides, nervous grooms and other such contingencies. Furthermore, you want a company whose chauffeurs are both friendly and reliable. Nobody wants to be ferried to her wedding by some old grouch who just stopped off for a pint!
Around London and the Home Counties, London-style taxis are a popular choice for bridal cars. While the car sports a taxi body, it's usually painted white and bedecked with ribbons, streamers or balloons, announcing to all that a lovely wedding is about to take place. White wedding taxis also can serve as backdrops for wedding photos. In addition, the larger sedans used for most wedding taxis are well suited to carrying a bride and her voluminous veil and train without causing wrinkles!
Perhaps your wedding calls for something a bit more traditional, yet distinctive. In that case you can engage wedding transport services that use classic 1960s "bespoke" cars such as the Daimler or the Jaguar MK11 (the car that Inspector Morse drove). Some companies build their fleets around classic Rolls Royce cars or Mercedes models.
Some wedding transport companies offer en route refreshments such as champagne or non-alcoholic drinks, along with decorations that match the wedding's colour theme. There are even options such as a personalized nameplate for the front of the bridal car, which would be a keepsake for the happy couple.
If "fun-loving" describes your wedding, then check out the opportunities to arrive in a fire engine limousine. Several companies around the UK these days specialize in fire engines converted into limousines that hold as many as eight members of a wedding party. Imagine the look on your guests' faces when the bride and groom arrive in one of these specialized cars.
Other truly different means of wedding transport include the Hummer, classic Volkswagens such as the 1959 VW Cabriolet, the VW Bug, 1969 VW Microbus and all makes and models of vintage cars.
Next to arriving for the wedding in a London taxi, nothing could be more quintessentially British than to transport the wedding party in a London double-decker bus. And while the arriving group might be solely the wedding party, heading to the reception with a bus ful of well-wishers will create a joyful, even hilarious memory of a memorable day.