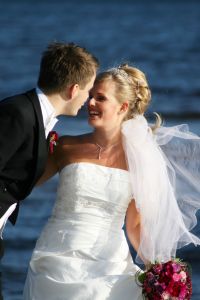 The sun, sand and the beach are the perfect combination for a wonderful destination wedding. With the sound of the waves and the sun in the background, getting married by the beach is perfect.
Just like in any kind of wedding, there are several things you need to think about what planning for it.
Have a Backup Plan

Mother Nature can either be your best friend or worst enemy when it comes to outdoor weddings. So, make sure that you choose the perfect season for your wedding, unless you want everyone to get soaking wet from the rain on your wedding day.
Go Simple

For beach weddings, it is always better to go simple and casual. You will be walking in the sand, so you might want to use flat sandals or go barefoot. Make sure that you let your guests know the attire for the event. Usually beach weddings call for flowy dresses for women and khaki pants and white polo shirts for men. This is the best time for everyone to look comfortable, have fun and be merry.
Go With the Flow

Let the details of your wedding reflect elements of the beach. You want to incorporate some of those elements onto your invitations, decorations and wedding favours. For your hair, make sure that you keep it flowy and less severe. Also, make sure that you keep your hair out of your face by choosing the right hairstyle.
Be Realistic

If you are having a beach wedding on a tropical island that's far from where you live, then you will have to accept the fact that some of your friends or loved ones may not be able to attend. If you really want them to come, make sure that you let them know early, so they can adjust their schedule and be there on your wedding day.