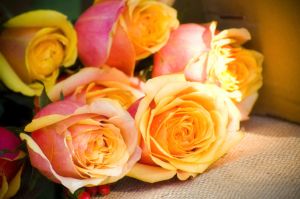 Having too many options is equally as difficult as having limited alternatives. So when it comes to choosing flowers for your wedding, you have to think as methodical as possible. Your selection should be based on several factors like the theme, the season, the price and of course, how long they will stay fresh.
Fortunately, because of technology, choosing and purchasing your wedding flowers has become much easier and convenient. You can now do all of your shopping for wedding flowers online. You can simply browse through their website, look at their catalogue and look for your choice of flowers with the best prices.
Not everybody has ordered flowers online though, and because this is not a simple gift you want to send your friend, you need to go the extra mile to make sure that everything is perfect and covered. Before ordering you should be sure of your decision.   You should also specify the time, date and location you would like your flowers to be delivered. You need to consider the time it takes to put the whole wedding decoration together.
The many online flower shops offer great deals based on the bulk, or the package that you need. Ordering must always be made ahead of time to avoid any mishaps and also save you money. Because your wedding day should be the most wonderful time of your life, you should plan it with that in mind. Make the best out of your time to prepare and make your flowers compliment the happiness of your special day.