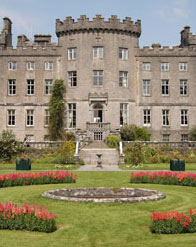 Markree Castle's wedding team are really excited to announce details of two new specials for Autumn / Winter 2012.  Designed with the discerning couple in mind, these offers are a perfect balance of value and the quality that Markree has become famous for.
Autumn Bliss:  Enjoy 10% of Markree's all inclusive Rose and Sunflower Packages for selected dates in September & October 2012.  This means your special day from an amazing €54 per person.  Picture your perfect Autumn setting- warm fires, gorgeous colours in a rural idyll, intimate atmosphere- and make it real.
Winter Wedding Wonder:  Make your dream of a castle winter wedding; frosty morning, cozy evening, perfect winter light; come to life.  Mix in estate grown and hand-picked Christmas trees and decorations and your day is made.  Markree's team have put together an amazing all inclusive, winter wedding package so that you can take full advantage of the season… mulled wine with homemade mince pies, a five course banquet with wine and evening buffet from €65 per person.  Your guests can also take advantage of an extra special room rate for the night.
Visit www.markreecastle.ie or contact Emma & Jeremy on 071-9167800 or [email protected] for further details.