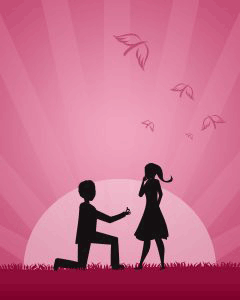 However much they look forward to the wedding day, most engaged couples want to rip their hair out at one time or another during the process of planning their wedding. They will find themselves tied up in knots and all stressed with keeping to budgets and deadlines while still organizing a lavish ceremony and they will often find that they are just as stressed over their expectations of others. Stresses such as these are more manageable if you can identify the source of the stress.
In general, three groups of people will cause the most strain on the engaged couple:
Stressor Group #1- Squabbling Family
Inviting bickering or divorced family and friends to your wedding is a huge source of stress. You do not want fighting to pervade your wedding day and take the focus from the love you and your soon to be spouse share. Sit down with squabbling factions and tactfully ask them to call a truce for your wedding, all the while emphasizing that you would not be comfortable with fighting at your wedding. One other way to take control of your worry about battling ex's and fighting friends is to not serve liquor. Liquor loosens lips and heightens argumentative attitudes.
Stressor Group #2- Parents
Parents have a special knack for causing engaged couples stress. The problem with parents is that they sincerely want to help and most couples do not want to hurt their feelings by disagreeing with them. Plus, children are raised listening to their parent's instruction so standing up for what the couple wants to plan in their wedding can be difficult. Sit down early in the planning process and go over the "rules". Define the budget and whether they are contributing to the budget. Outline your perception of the wedding such as where it will be, when it will be and what style or theme you would like. Get parents to set the number of guests they intend to invite. Make parents feel included by designating tasks you are willing to let them control such as organizing hotel stays for guests. The couple should not lose sight of their vision for the wedding.
Stressor Group #3- Vendors
Vendors make money by selling you goods and services. They will naturally try to point you towards the more expensive of their products. You can lessen the stress of dealing with this situation by telling them you will think it over and get back to them. At home you can more easily sort through the options and decide whether they are necessary or expensive add-ons outside your budget.
The most stressful relationship during wedding planning is often the one shared by engaged couple themselves. The only way to make things easier is to divide and conquer the planning chores. Make the planning a combined effort so that both parties feel involved. Make time away from the planning so that it does not consume your pre-wedded life. Enjoy each other and remember why it is that you have chosen to be married.
Everyone is going to have an opinion about the details of your wedding. Many will not hesitate to air their opinions to you. Listen politely and then plan your wedding as you want it to be. The wedding should reflect the couple's personalities and not be a hodge podge of everyone's input. Repeatedly tell yourself that this is your wedding, not theirs.