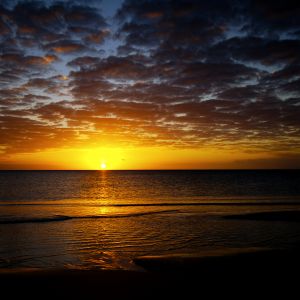 The one thing that most bridal couples look forward to as much as their wedding day is of course the honeymoon that they will be going on after the reception. The honeymoon gives newly weds time away from everyone and everything so that they can just enjoy each other's company and really begin their marriage.
A dream honeymoon destination is different for different couples. While some newlyweds dream of spending their honeymoon on a warm, exotic beach in the Caribbean, others might decide to hold their wedding in a mountain location and stay on for the honeymoon.
When you are engaged, the ceremony and reception for your wedding do need to be planned out ahead of time and you also need to work out what you want to do for a honeymoon. When planning your honeymoon, there are various things you should bear in mind to make sure you end up in the best possible location.
When are you Planning to Go?
The time of year that you intend to travel is a huge factor when selecting a honeymoon destination. Factors such as temperature, travelling conditions and weather need to be considered. You don't want to be in the Caribbean during hurricane season, do you? The time of year that you choose to travel will also affect the cost of your getaway, as high season will be more expensive.
How Much are you Willing to Spend?
When you have a clear idea of how much you can spend on your honeymoon, this immediately helps with where you can actually go. This helps to speed up the selection process by limiting your options to those which are actually possible for you and your new spouse.
What Kind of Weather are you Looking Forward to?
You should definitely bear in mind what kind of weather you want. Some people want to spend their entire holiday lazing on a beach, while others want to hole up in a secluded cabin and go skiing every chance they get. Whatever your preference is, you should agree on it before you start looking at destinations.
What Kind of Resort do you Want to go to?
What kind of resort you want to spend your honeymoon at? You may not want a resort at all, or you might want the huge swimming pool complete with wandering waiters. Think about all the facilities that are available at each destination, in general and in the rooms, and work out which one suits you best.
Do you Want to stay at an All-Inclusive Resort?
You need to decide whether or not you want to go all-inclusive when you book your honeymoon. Some resorts are more expensive but absolutely everything is included, from alcohol to water skiing, so that you can do anything you like without having to worry about extra costs.
The Bottom Line
The above ideas are just some of the things you should consider when planning your honeymoon. In the end, it is the beginning of the rest of your lives together, so make sure that you both get exactly what you want. You might have to listen to the opinions of family and friends when you plan your wedding, but the honeymoon is your decision exclusively. Make it a time that you will always remember.