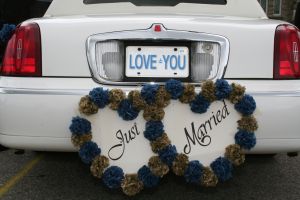 Your wedding day is a day that you have dreamed about ever since you were a little girl. You may have imagined yourself as some sort of fairytale princess making a grand entrance at a fairy tale ball, to reach your prince charming who awaits you with open arms. But now that the big day is here, you may not have the cash to afford that fairy tale entrance you always dreamed of making. However, there still are ways through which you can arrive at your wedding day in style, even while working with a budget.
HERE'S HOW
Instead of going for the dreamy stretch limousine, you could instead opt for the more traditional limo which seats six passengers. These are obviously cheaper while still classy at the same time. If your bridal party consists of more members than can fit in the limo, you may opt to have them transported in a friend's vehicle to the wedding. The bride and groom may then be transported exclusively in the limousine.
When signing up for the limousine service, you might want to pick the hourly rates instead of a whole day package. This will save you a lot of money in terms of wedding transportation costs. You may even opt to only have the limo at the end of the wedding reception such that you may make a dramatic getaway, rather than at the beginning when everyone is inside the church or ceremony venue and will not see you arriving anyway.
Another way of saving money with the limo option for your wedding day transportation is by foregoing those little "extras" that you don't really need. These may be in the form of a sunroof or a television in the limo. The truth is, you will most likely be too excited to even take in these extra features and so they will be wasted on you. Just stick to the basics of what you need and you will be able to cut costs on your wedding day.
If your budget is even tighter, you may wish to forego the entire idea of having a chauffeured limousine and instead settle for a rental car. Rental car companies have an assortment of luxury vehicles that you may rent out for your wedding day. All you have to do is then designate someone reliable to drive the rental car on your wedding day.
Book all your wedding transportation from the same company. This is because most firms will be willing to offer you a discount because of your hiring of multiple vehicles from them. Also remember that the date of your wedding could also influence your transportation options. Having your wedding during the popular months of the year is sure to set you back quite a bit in terms of costs of transportation. This is because demand is usually high at such times. Instead, be unique and tie the knot during the unconventional months and you will be surprised how much money you can save from discounts.