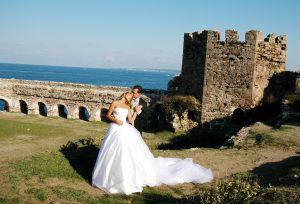 When the wedding celebration has finally ended, the only things that will stay are your wedding photos. Wedding photos are your keepsakes from that very special day of your life. That's why it is important to look beautiful in your wedding photos. There are several things you can do to look radiant in your bridal portrait. Below are some tips:
Choose the Right Photographer
Great wedding photos were not done with magic, but with careful collaboration between the photographer and the bride. So, it is important that you choose a photographer that you're comfortable with.   You should also check the photographer's samples and let him or her know what style you want for your wedding photos.
Confidence is Key
Work on improving your confidence. If you are confident, it will show through your posture and the way you move. You can also try going to the gym for a workout or to learn a new dance.  This will help you loosen up and tone your body.
Choose the Right Make-up
If you like the makeup you see in the mirror, chances are you will look amazing in pictures. These days, it is much better for brides to choose a more natural look when it comes to make-up.   Remember that make-up is used to highlight your best features.   Do not allow your make-up artist to make you look like a totally different person with heavy make-up.
Smile
Don't forget to smile in your photos. It's your wedding after all and you are supposed to look happy! Your smile is a big addition to that happy glow in you.
Practise
The reason why models look great in pictures is because they practise.   At home, look in the mirror and discover your best angle.   Know the best tilt for your head and be aware of the position of your hands.