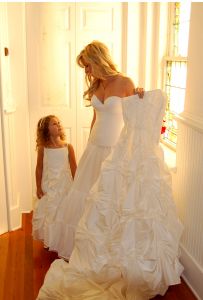 How To Look Great When You Say I Do
To look your best on the big day, you need to be relaxed, joyful. Sure it is only day and it will be over before you even know it. However, your wedding photos will be treasured for years and will be a testimony to how you looked on your wedding day. Wouldn't you like to look your best!
Choose the Perfect Gown
Your wedding gown is sure to be the attention grabber of your wedding day. Take your time and choose one that is perfect for you; one that brings out the best in you and is also ideal for the reception venue. Choose something that makes you feel beautiful yet is also comfortable. You need to look for a dress that allows to you sit down, stand up, walk around and dance without having to struggle to breathe or worry that something will rip apart. Allow plenty of time for the whole process, whether you by it off the peg or have it tailor-made for you.
Remember, when you have spent so much time choosing your dress and the headpiece, you don't want to detract from the effect by not taking the time to choose the right hairstyle and make up. If you are choosing a new look, practice a few times before the event to make sure you can easily get the look you love on your wedding day.
Don't Forget Your Nails!
Your hands will be looked at a lot on your wedding day! You can expect every single guest to want to see that ring so make sure you get a manicure the day or two before or else you are bound to start feeling extremely self-conscious.
Choose Your Makeup Carefully
While makeup may sound like the least of your worries, you should practice the look you want beforehand. It needs to be a little heavier than what you would usually wear in the daytime, as otherwise you may look washed out in your photos. For an evening wedding, do your makeup as if for a formal dance. Just don't go too far – avoid extremely pale or dark tones, as well as anything glittery.
Use new mascara to be on the safe side – this will avoid clumps and now is not a good time to change your brand of anything, especially if you have sensitive skin. A rash on your face is not a good look. Also, make sure you choose waterproof mascara, just in case you shed a few tears.
Get Some Rest
Get plenty of sleep on the night before your wedding. Any rehearsals or parties should end early and keep drinking to a minimum. Don't eat too much either, or your perfectly fitted wedding dress might not fit so perfectly twelve hours later.
If you are feeling jittery, go for a walk. A hot bath with lots of bubbles, candles, relaxing music and a cup of hot lavender tea should help you unwind as you prepare for D Day. A good night's sleep is always the best stress relief and relaxing before going to bed is the best way to achieve that.
This is the most important day of your life. You should go into it feeling perfectly relaxed and joyful about beginning this new stage in your life.