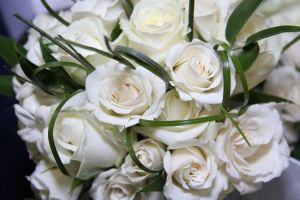 Nobody knows for sure how the tradition of having flowers for a wedding began but one thing's for sure, since time immemorial brides have always been thrilled to be decked out with beautiful blossoms.
Traditional wedding flowers such as roses, orchids or orange blossoms are increasingly being joined by locally grown, seasonal flowers. Such blossoms are not only an earth-friendly alternative; they are seen as a natural and authentic touch to the wedding decor.
The first step to having locally grown wedding flowers is to consult with your florist. Many florists today have local suppliers or even company policies about using British-grown blossoms. Your wedding florist can tell you about their typical supplies or what's available to you.
It is also a good idea for the bride, her wedding party and wedding planner or other advisers to do some research about locally grown flowers and what's available for which season.
Flowers for a Spring Wedding
A spring wedding would benefit from a profusion of flowers in an array of colours, style and fragrances to evoke both the romance of the couple and of the season. Fragrant Freesia tops the list of Spring wedding flowers, but there are many other options, including Alliums, Bluebells, Columbines, Eucalyptus, Guelder Rose, Hyacinths, Iris, Jonquil, Narcissi, Paper White, Ranunculus, Snowdrops, Sweet Peas, Tulips, Viburnham Tinus and Violets.
Flowers for a Summer Wedding
For a summer wedding, many florists consider Peonies to be perfect in a bridal bouquet and for decorating the wedding venue. Peonies can be tied by hand to make bridal bouquets or arranged with other seasonal blossoms for a stunning centrepiece for the reception. Peonies come in a wide range of striking colours to match any wedding theme, including pure white through soft to deep pinks, delicate peach and rich reds. British-grown peonies are in peak season from mid-May to the beginning of July, if you'd prefer to stick with locally grown flowers. Peonies grown outside the UK can be found from April through October, and sometimes even into November. Check with your florist.
Summer weddings benefit from the abundance of vivid blooms that love the season's warmth. Many brides love the scent and stately shape of Calla Lilies for their wedding flowers, but there are also, Cornflowers, Cosmos, Delphinium, Foxgloves, Dahlias, Eucalyptus, Gladioli, Honeysuckle, Hydrangea, Ivy, Lavender, Marigolds, Scented Garden Roses, Snapdragons, Sunflowers, Sweet Peas and Sweet Williams, among many others.
Flowers for a Autumn Wedding
For an autumn wedding, flowers reflect the reds, yellows and golds of harvest abundance. Autumn bouquets often combine flowers with the wonderful aromas of herbs and the colours of foliage. Aromatic garden roses mix well with Rosemary, Mint, Ivy, Rubus, Rose Hips, Eucalyptus, Sages or Scented Geranium. Other options include Amaranthus, Arum Lily, Astrantia, Dendrobium Orchid, Hypericum, Narcissus, Nicotiana, Rudbeckias,   Sedum, Snapdragons, and Zinnia.
Flowers for a Winter Wedding
A winter wedding has a beauty all its own. Many florists suggest vivid red Christmas roses for wedding flowers at this time, but there's also the romantic Cosmos, a delicate and unusual flower that makes a stunning wedding bouquet. Cosmos colours range from red, pink, white, orange and yellow to the exotic Chocolate Cosmos, a velvety brown blossom that carries the scent of vanilla and chocolate. Cosmos makes an excellent posy-style bouquet, a perfect choice for a formal winter wedding.
Other wedding flower options for wintertime include Amaryllis, Anemone, Camellias, Cymbidium Orchid, Dogwoods, Eucharis, Fruiting Ivy, Heather, Iris, Ivy Berries, Pussy Willow, Rosehips, Rosemary, Snowdrops, Twisted Willow, or Vanda Orchid
With such locally grown blooms in abundance, a bride can carry wedding flowers that will enhance her special day no matter what the season.