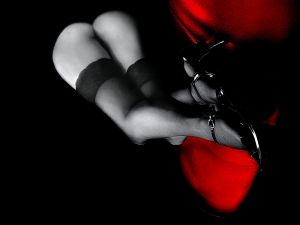 With all the calories that accompany pre-wedding celebrations, many a bride-to-be has found herself in this nightmare: Despite all the dieting and exercising, there's still too much bulge in the hips and waist. How are you going to look great in that fabulous wedding dress?
Don't despair. Assuming that you've chosen the right gown for your figure, there are undergarments that will be your secret allies for a gorgeous wedding day look.
For all-over smoothing and control, consider a low-plunge bodysuit, also known as a body shaper. This undergarment evens out unsightly bulges and provides wonderful support for women whose bra size runs from A to D cup. It takes the place of bra and panties under a gown or a slip. Fortunately, unlike the rubber girdles worn by our mothers and grandmothers, body shapers are lots more comfortable these days, since they're made of Lycra or strong nylon. Body shapers come in many versions that will perfectly match any wedding dress style or bride's body shape.
Another option to cope with figure flaws is a high-waist thong panty. Since it leaves your butt bare, it's the perfect solution for brides who've chosen a wedding dress with a dropped waist or figure-hugging styles such as a trumpet or a mermaid skirt.
If your wedding dress is a sheath made in a filmy material such as silk or chiffon, consider the thigh shaper. This microfiber garment covers your torso and thighs from below the bust to the top of the knee. There'll be no tummy bulges or panty lines wearing this beauty.
Meanwhile, tackle those back bulges with a shaping tank top over your bra. You need to be wearing a gown with straps or sleeves to wear this toner successfully.
Another waist-nipping undergarment is high-waist pantyhose. This style has a band made of microfiber that covers from below the bust, merging into sheer tights. High-waist pantyhose take the control top idea to the max, but they almost always come in a reinforced-toe style. This makes them unsuitable for open-toed wedding shoes.
Lastly, if you are worried about how to support "the girls" in your wedding gown, consider these options:
A Bustier or Corsette Bra makes a good choice for a strapless gown because its coverage extends fully over the abdomen. This can be a great help if that little potbelly just wouldn't go away before the wedding. A Long-line Bra also offers good support but doesn't extend as long on your tummy as a Bustier. Best to make sure you have no bulges around the navel to wear a Long-Line.
A Convertible Bra can be of value if your dress has a halter neckline or is backless. A Convertible Bra is one with straps that unhook for strapless or backless dresses, or that can be attached in several different configurations such as the halter or "racerback" version. This bra's versatility also makes it useful past the wedding day.
Finally, there's the Adhesive Bra. Yes, the idea of wearing partial bras that adhere to your skin sounds weird, but it also can be wonderful, especially for a backless wedding dress. Even full-busted women usually can wear an adhesive bra for at least 12 hours - plenty of time to get married, drink Champagne, eat cake and head off on your honeymoon.