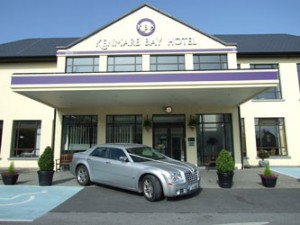 The award-winning Kenmare Bay Hotel & Resort, a well-known and acclaimed wedding reception venue, has an amazing offer for a few last remaining 2012 dates. It's an all-inclusive package for just €8,500 for 200 guests, or €42.50 per guest for a minimum of 200. The package includes:
*sparkling wine & canapés for your guests' arrival;
*4 course meal with choice, chosen from our full menu options
*1/2 bottle wine pp
*full evening buffet
*chair covers & sashes (purple or silver)
*late night exemption bar license
*5 complimentary rooms on the night of your wedding
Plus all of the Kenmare Bay Hotel's usual complimentary items such as use of the wedding car, centre pieces and top table decoration and a background piano-player during the meal. Pro rata discounts apply for smaller guest numbers; great discounts possible for 300+ guests. Valid dates are 3rd, 9th and 24th November 2012 plus any available dates in January & February 2013.
Contact Sue for further details on [email protected] or view website wedding page – http:// www.kenmarebayhotel.com/kenmare-weddings/ For your wedding in Kerry, view the Kenmare Bay Hotel before you make any decisions. You're very welcome at the Kenmare Bay Hotel & Resort.