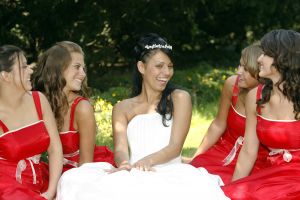 The big day is almost here and you are beginning to fret about how you will look. You want to stay beautiful throughout your wedding ceremony and the reception, but you are not sure you can manage it in all the stress and excitement.
Here are some tips that will help keep you picture perfect throughout your wedding event.
Practice, Practice, Practice
Once you've decided on your wedding makeup, wear it several times before the big day. Not only will this increase your confidence in your beauty application, it will test whether you are allergic to any product, especially if you've purchased new ones.
Go Waterproof
You may not be a woman who cries a lot, but most brides get teary at some point during their weddings. Use waterproof eye makeup to make sure you don't end up with streaks down your face. Mascara, eyeliner and eye shadow all come in waterproof formulas that will resist not only tears, but heat and humidity as well.
Go for Long-Lasting Lips
If you haven't tried a long-lasting lipstick lately, you are in for a surprise. Those too-dry early formulas have been replaced by a combination of stay-on colour and moisturizer. Apply the colour at the beginning of your wedding day, and then freshen up periodically throughout the day with the moisturizer. This will keep you looking perfect for wedding pictures and congratulatory kisses.
Mist and Blot
If you have dry skin, keep a mister of purified water in your beauty case. A light mist - NOT a shower! - will keep your skin looking dewy. Likewise, if you have oily skin, keep plenty of tissues or facial blotter pads handy. You want to glow, not shine, on your wedding day.
Assign a Make-Up Checker
You are the star of the day and just like a film or TV star, you need an assistant who can help you keep your face in good shape. You could ask your maid of honour, your mother or another friend who's good with cosmetics to keep a friendly eye on you. She'll let you know when it's time to touch up your face. She also could help out by being the guardian of your lipstick.
Be Prepared
All kinds of things can happen to a bridal party before the festivities start, so take back-up supplies along. Include a sewing kit, clear nail polish for runs in hosiery, hairspray, a hairbrush, tissues (plenty of tissues!), loose powder and a brush to take care of shiny noses, extra lipstick and/or anything else that might be needed by the bride or bridesmaids in an emergency. Keeping track of the back-ups can be a bridesmaid's job or a way to involve your future mother-in-law in essential duties helping the bridal party look their best.
Finally, breathe deeply and relax. You and your bridesmaids have probably done everything you can to create the magical wedding day you've always wanted. Now all that's left to do is walk down the aisle and take your vows with your beloved. That alone will make you beautiful.