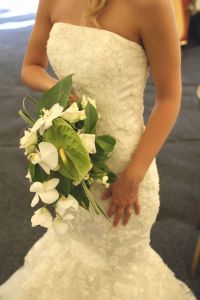 One of the most special days in a woman's life is her wedding day. And obviously, one of the biggest decisions you have to is choosing your wedding dress. We've already featured some tips on how to shop for your wedding dress, and because we just couldn't fit in all the information on a single article, we have decided to create a part 2 on "How to Shop For Your Wedding Dress".
We've already discussed the planning and preparation for choosing your dress. Now let's discuss what you have to look for in a wedding dress.
Comfort matters. Yes, on your wedding day, you'll want to be a regal beauty. But, remember that your wedding day will last for hours, and feeling good is equally important as looking good. While a corset may sound great for your figure, you must also be realistic and weigh if you'll be comfortable in it for hours.
You should also consider your personality when choosing your dress. If you're the type who likes to dance, you may want to shy away from strapless dresses for example.   If you're having a beach wedding, you wouldn't want a long dress that would collect sand inside the seams. You should opt for a tea length or cocktail dress, even if a gown does look prettier.
Feel confident about your body. If you're going to choose a dress, you should make sure that it fits your body type. There are certain types of dresses that look good on a certain type of body. Just because this type of dress is in season, it doesn't mean that you have to wear it on your wedding day. There are also some dresses that look gorgeous in the display window, but look different when you put it on.
Money matters. Not everybody has the luxury of a huge budget to spend on their wedding dress. If you find yourself on a budget for your dress, you still have the chance to get the perfect one without burning holes in your pockets. There are many bridesmaid dresses that come in off-white or white that works perfectly for brides. If you don't have the budget for a complete dress designed and made, you can pick-up a dress from a store with a design that you like, and spend the extra cash to have a professional tailor alter it to fit you perfectly. Remember that a dress will look its best if it contours to every flattering shape of your body. It could still look like the million dollar dress you really want.
The most important thing to remember when choosing your wedding dress is, you try to look good because you want to feel good. So, pick a dress that doesn't only make you look good on the outside, but also feel good on the inside.