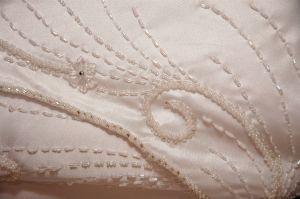 Your wedding dress is more than just a piece of clothing. It has great sentimental value and is a symbol of love. Whether you want to keep it or pass it on to your daughter, the first thing you need to do is have it cleaned.
Have your dress cleaned as soon as possible. Inspect the dress for some stains and point them out to the cleaner.   If your dress has beads or ornate embellishments, make sure they're all in their proper place before having the dress cleaned. After cleaning, check whether the stains have been removed and whether the beads are still secured.
A lot of people make the mistake of having it vacuum sealed. Doing it may actually damage the dress and make it yellow. Plus, keeping it sealed would also trap a lot of moisture, which can ruin the fabric. Keeping it inside boxes made with plastic is also not a good idea. The decomposition of plastics may leave acidic residues on your dress.
You need to remember that because your dress is made out of natural fibers, it needs to be stored in a place where it can breathe. Tell the cleaner to put your wedding dress in boxes that are acid-free. Also remind them to use unbuffered tissues between the gown's folds to keep the dress wrinkle-free. Take your dress out of its box every five years to check for new stains. If you spot any stain, have it re-cleaned. Store your dress in a dry and cool area. Some good locations would be under your bed or inside a closet. Do not store it in the basement or attic since those are where the temperature is too extreme.
With proper care and inspection, your wedding dress will surely be used for generations to come.