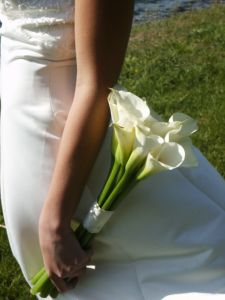 Looking great on your wedding day is your number one goal. As much as possible, you will want to feel relaxed, radiant, ready and half a stone lighter on your wedding day. How you look in your wedding dress is a part of becoming a bride. Even if you have the perfect hair, makeup, dress and nails, feeling bloated and too cramped in your wedding gown is something that you will want to avoid. There are numerous ways that you can ensure that you will look your best on one of the most important days in your life.
Always choose your wedding dress in advance. This is probably the most important item that you have to secure ahead of time. Choosing your dress in advance will give you enough time to find the perfect wedding dress that fits and suits you. The next thing that you need to do is choose your wedding hairstyle. As much as possible, your hairstyle  shouldn't  overpower your dress. So try to avoid flamboyant headpieces and hairstyles that will overwhelm your overall look.
Nails may only be a small portion on your body but they are the part of your finger which will carry your wedding band. Thus, you should have your nails fixed professionally. Try to reduce the chances of having a broken nail or chipped polish. If you are not into coloured polishes, just make sure that your nails are neatly trimmed, polished, buffed and filed.
The best way that you can enhance your beauty during your wedding is by wearing makeup. This is usually the last thing that you have to worry about. The best makeup  shouldn't  change the real you, it should just enhance it. The last and the simplest thing that you can do before your wedding is prepare in advance to feel your best. Don't spend the night before your wedding partying. Get enough sleep so that you will have the right amount of energy to enjoy your wedding day. Plus, don't gorge yourself the night before. Believe in unknown forces that will try to make your gown a wee bit snug before your wedding.