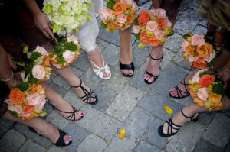 As a bride, it is important to remember to appreciate how your bridesmaids   have helped you on your big day. You have chosen them because they are the ones who matter most in your life. They take time off from their busy schedules to support you and finally see you walk down the aisle.  The best way to honor them is by giving them a heartfelt gift, which they deserve.
Finding the perfect gift may be tough, but quite rewarding in the end.  The creative types make personalized gifts, while others choose presents suited to the receiver's personality.   Whether the gifts are the same or entirely different completely depends on you.   It is essential that every gift should be of the same price range, except for the maid of honor's, which should cost a little more.   To truly honor your bridesmaids, remember to enclose a personal note with each gift.
Here are some clever ideas for presents that your friends will truly love.
Accessories
Women can never have too many accessories.  Give her something she can wear   for weddings and other special occasions
A necklace   or  a pair of earrings that complement the receiver's style
A   shawl for a spring, autumn or winter wedding
A clutch purse
Her bridesmaid dress
Gifts for Destination Weddings
A guidebook about the destination, something to add to their book collection or   display in the living room
A special gift bag filled with items related to the destination
A classy travel kit
Personalized Items
A CD filled with nostalgia inducing songs for you and your bridesmaid
A photo album
A charm bracelet
Personalized poem
Handmade gifts
A painting or drawing, if you are the creative type
A hand-painted scarf
A scrapbook filled with mementos of both of you
Home-made scented candles
Bath salt
Knitted scarf
Quirky soap
Beauty and Style
Makeup
A gift voucher to a spa
A gift voucher at her favorite boutique
A gift basket full of lotions and skin care products
A robe of   her favorite color
Silk pajamas
Food for her Soul
A gift voucher to her favorite restaurant
A bottle of her favorite wine
Decadent chocolates
Gift voucher for cooking lessons
A subscription to her favorite magazine
Popular new cookbooks or   state-of-the-art kitchen supplies
Gift certificate for a dance class
A French press or a coffee maker