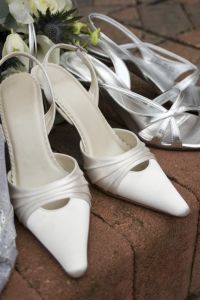 After deciding on your wedding dress and accessories, the next thing you need to look for is your wedding shoes. It is important that you wear the right shoes, as they're the ones you'll be walking down the aisle in. With so many styles and colours to choose from, the possibilities are endless. So, here are some tips to help you decide on which pair to choose:
Wear comfortable shoes. Go for shoes that will help you survive a whole day of walking, standing and dancing. Do not let your shoes ruin the biggest day of your life. If you're not used to wearing heels, bring an extra pair of stylish flats just in case your feet ache during the reception.   Make sure your dress is long enough to cover your shoes.
Consider the style of the shoes and how they complement your dress and the wedding theme. Find a pair that is not only stylish but also comfortable. If your dress has a decorated hemline, wear simple shoes without too many embellishments. If your dress has a simple hemline, choose shoes with a bit of sparkle and decoration.
The colour of your shoes doesn't have to be ivory. These days, most brides choose shoes with vibrant colours, making the shoes more of a fashion statement. For example, you could wear an ivory wedding dress with red satin shoes.
Most wedding shoes can be a bit pricey, so make sure you buy a pair that you absolutely love. To make the most of your money, you can choose shoes that can be worn for other events simply by having them dyed after your wedding. If you've found the shoes you like in terms of style, test-drive them and make sure they're comfortable. Remember that comfort is your primary concern, so whether they're expensive or not make sure they won't hurt your feet on your special day.