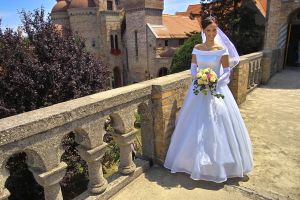 Choosing a wedding dress can be the most time consuming part of preparation for the bride. You want something that will make you feel beautiful and honor your love at the same time.
A wedding dress has become a truly symbolic outfit, representing love, joy and hope for a long, happy life together. No wonder brides find the search for the right dress to be stressful!
Here are a few of the things that bridal experts counsel you to consider when choosing a wedding dress:
Silhouette: A gown's overall shape is the most important element to assess, because it not only determines the overall look, but whether it will flatter your figure as well. A ball gown, with its fitted bodice and full skirt, might be the wedding dress of your dreams, but it may not be the best choice for your body shape.
Neckline: This part is the first part of the wedding dress that most people notice, because the neckline frames your face. That's why it's important to look for a neckline appropriate to your wedding style and what part of your figure the neckline will emphasize: your long, slender neck, your ample bosom or your strong shoulders.
Waistline: As the seam that attaches the bodice to the skirt, the waistline gives the silhouette its shape and balance. The waistline also determines how well the dress flatters or detracts from your body shape. High empire waistlines can slim broad hips, while a dropped-waist style can elongate a short torso.
Sleeves: The sleeves of a wedding dress can provide interest for the bodice while they balance the shape of the skirt. These days, choosing a sleeve style pretty much depends on how much skin the bride is willing to show. Sleeveless dresses are very much in style these days. However, if your upper arms aren't as sculpted, longer sleeves will be more becoming.
Hemline: This element of a wedding dress is one that has changed drastically through the years. Wedding gowns typically were floor-length until World War I. The flapper styles of the Jazz Age inspired knee-length gowns, with hemlines dropping to mid-calf by the Great Depression in the 1930s. These days hem length has become a personal choice, with longer hemlines signifying a more formal ceremony.
Fabrics: Fabrics for a wedding gown will depend on the season, along with the style, texture and drape, among others. Similar styles will look very different depending on whether the dress is created in a clinging material or one that's more stiff and formal. Popular wedding dress fabrics include silk, satin in various blends and textures and even blends of the two such as charmeuse, a lightweight silk and shantung, a low-sheen textured silk. Fabrics such as chiffon, tulle and organza that are lightweight but transparent are used in overlays and underskirts in multiple layers.
Lace: This form of creating a pattern from looped and braided thread of cotton, silk or even nylon has become synonymous with wedding gowns. More contemporary sophisticated brides opt not to have lace on their wedding dresses, preferring a sleek, smooth look. However for many brides a lace-covered wedding dress is the romantic outfit they've dreamed of all their lives.