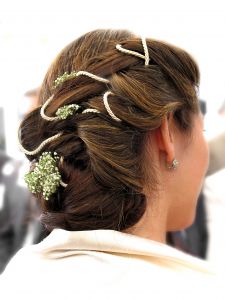 Summer is one of the best seasons to celebrate your wedding. The warmer months assure you of a fantastic weather on your special day- lots of sunshine and close to zero chance of rain. However, too much sun may damage your tresses. Below are some things that you need to consider to ensure that your locks look perfect on your wedding day.

Sun Damage
A lot of people are not aware of the importance of using HPF. HPF is short for Hair Protection Factor, which is quite similar to SPF. The sun's rays are as damaging to the skin as they are to hair. So, remember to protect your hair and scalp with the right hair conditioner. If you have really dry hair, you might want to use a leave-on conditioner. This type of conditioner will help keep your hair moisturised without looking oily.

Long Hair or Short Hair?
For most women, hair length can be a common dilemma especially during the months or weeks leading up to the wedding. Some women choose not to have their chopped off before the wedding, as they think that having short hair won't go well with their overall look for the big day. The truth is, there are countless hairstyles that would match any hair length.
If you have a pixie cut, you will definitely look sexy with the right styling and treatment. If you aren't sure of what style you prefer, make sure to do your own research. Look at some pictures of famous celebrities who had a pixie cut on their wedding day. You could also ask for advice from your hair and makeup stylist.
Hair Accessories
Hair accessories can add a touch of elegance and sophistication to your look. Make sure that your veil matches your accessories. If your dress has a lot of embellishment, it may be better if you tone down your accessories just to balance the whole look.