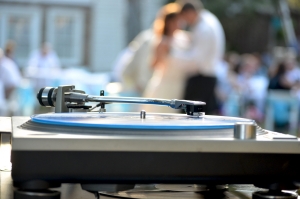 Aside from planning a wedding ceremony, another challenging task on your big day is how to have an amazing reception. You want your guests to leave your party with memories of good food and entertainment.  Here are some points to consider when selecting a DJ:
Meet and Greet
Before hiring a DJ, be sure to meet him or her first.   This will give you a chance to know what they're like and ask them some questions about their profession. How long have they been a DJ? How many weddings have they performed at?   Find a DJ whose personality matches your own.
Get it in Black and White
To protect yourself from possible disputes in the future, make sure to have a contract.   Important details such as the DJ's actual name, the date, time and location of the event, and cost should be included in the contract.   The contract should also include some stipulations in which it can be broken.
Consultation
Consultations should be free of charge. You should be able to tell the DJ what kinds of songs you'd want to hear at your wedding party.   Tell him your type of music and what kind of atmosphere you'd like to have for the event.
Their Music
Do not define your DJ by the radio station he's affiliated with or the club he frequently plays at.   Ask him exactly what music he has and if he regularly updates his library.   If you have any special song requests, make sure to tell them in advance to give them ample time for preparation.
 What if?
It's quite normal to feel nervous and have fears about having a wedding party disaster.   So, it would be a good idea to ask your DJ problems he has encountered at wedding receptions and how he solved them. Present some worse case scenarios to the DJ and ask him about what he might do if such things happen.   If your DJ is truly a professional, he should be able to have gained enough experience to assure you a stress-free wedding party.