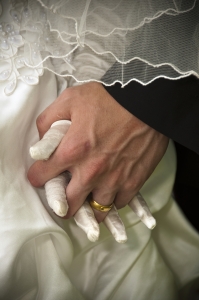 Planning a second wedding can be a bit more complicated than a first wedding. Details such as invitations, venue and color schemes may be much easier to take care of than having to face issues about when and how to tell your children and your ex partners about your upcoming wedding. If you're planning a second wedding, here is a short guide for everything from dealing with etiquette issues to what to wear.
Telling Your Children and Ex-Husband or Ex-Wife

It is important that you let your children know about your plans for a second marriage. The news of your wedding may either be heartbreaking or exciting for them. Some children may harbor a secret hope for their parents to get back together again, while some children may not. It is essential that you know exactly how they feel about your marriage plans. Ask them if they would rather tell their parents or if they prefer that you share the news. If you feel uncomfortable telling your ex about the wedding personally, you could send them a letter saying you and your partner are getting married. Also, let them know that you have already told the children and asked them to be part of the ceremony.
Involving children in your Wedding

If you have children, you may want to give them a special role in your wedding. They can be a flower girl, ring bearer, bridesmaid or groomsman, or even the best man or maid of honor, depending on their age. You might also want to ask them to make a special toast during the reception. Most importantly, make sure that they are comfortable with their part. If your children are still quite young and need guidance, you may want to invite their other parent to the wedding.
What to Wear

Other people might tell you that you shouldn't wear white for a second wedding. Thankfully, this old way of thinking has already been disregarded by a lot of people. What whatever color you like. Most brides choose a more mature look by wearing a simple cocktail dress or a long, dress without too much ruffles or volume.