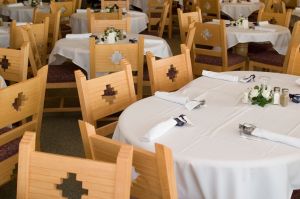 More than just a covered seating venue, marquees also provide the couple a lot of different interior designs to choose from. It is important that the couple incorporate their wedding theme and color to the marquee venue that they are planning to choose. Depending on the season, marquee venues can be very busy. So, couples should make sure they book well in advance, at least six months ahead.
The good thing about marquees is that they are positioned near a garden or a beautiful house or building. It is important that couples tell their wedding planner not to cover the beautiful view outside, as this view is what would contribute to the romantic atmosphere of the wedding reception.
You could choose between a frame marquee or a pole and peg marquee depending on your number of guests. The former having no guy ropes and can almost be erected anywhere, while the latter needing more space for the guy ropes. If you are having a big wedding and thinking of a bar area or a huge dance floor, make sure you pick a huge space. You want your guests to move around easily and dance without being compressed in a small dance floor.
When it comes to marquees, lighting is very important. With the right lighting, you can create drama into the whole atmosphere of the place. Marquee companies know how important this is, so they are the best ones to ask about what type of lighting is great for a marquee wedding party. Most marquee companies also offer quotes for linen, tables and chairs, which can be cheaper than getting them for third-party vendors.
The most important thing to prepare for during marquee receptions is to have a generator and a back-up emergency generator. The caterers, lighting and music may overload the normal domestic system, so it's best to have a generator just in case of an emergency.