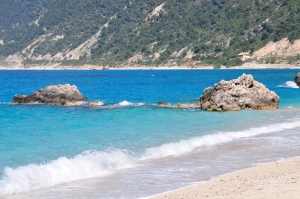 A honeymoon is a once-in-a-lifetime trip that gives a newly married couple the opportunity to start their new life together with an extraordinary vacation. Many couples save up for years in order to have an exquisite, unique travel experience on this very special getaway.
The biggest questions to be answered before the bride and groom depart are the kind of honeymoon that the couple is looking forward to and what destination will provide that experience.
Believe it or not, weather could be a significant determining factor in choosing a honeymoon destination, depending upon the wedding date. For instance, if a romantic tropical getaway is your idea of the perfect honeymoon, you'd best set your wedding date for some time other than the island's annual hurricane or typhoon season. Otherwise your honeymoon might be spent in a storm shelter!
Once you've checked out the seasons, then you have to come to an agreement on what kind of destination to choose. By far the most popular honeymoon is to visit a tropical paradise, getting tanned and enjoying swimming, skiing, snorkelling and other kinds of water sports. Because of their popularity however, most tropical venues can be booked up at any time or the year, so it is always advisable to make reservations as far in advance as possible.
If you and your intended are seeking a romantic site for your honeymoon, you may want to consider a stay in one of the most romantic cities, according to travel industry statistics. Paris, France, the fabled "City of Lights," tops the list of the 10 most romantic honeymoon cities, followed in order by Venice, Italy; Rome, Italy; San Francisco, California, USA; London, England; Vienna, Austria; New York, New York, USA; Prague, Czech Republic; Las Vegas, Nevada, USA; and Sydney, Australia.
If you are a couple with full-time jobs that demand all your attention, you might want to fill your honeymoon with a whirlwind trip that covers many sights. In this case an all-inclusive tour or trip is probably the best answer, since your devotion to your jobs probably means you won't get such a vacation opportunity again for a long time.
Whatever your destination choice, consider these guidelines when booking a hotel to avoid disappointment once you've arrived.
Things to Consider when Planning your Honeymoon
Budget: Set your budget first. There are plenty of resorts out there in your price range. And if you select an all-inclusive resort, you can cut back on your food budget and increase your hotel rate.
Location: Choose the hotel location carefully. For instance, if you are going for a beach honeymoon but money is an issue, you could still compromise. Choosing a hotel that's not right on the beach but close enough that you can still spend all the time you want with sand and surf will let you have the best of both worlds.
Choice of Hotel: Decide what type of hotel you want. Read online hotel reviews, especially those from honeymooners, and choose accordingly. Pick a room or suite that will assure your quality time there will be enjoyable. Check the hotel's amenities carefully. If you are doing a lot of sightseeing or other excursions, then you won't need many extras. However, if you are planning to luxuriate at the resort, then look for such things as concierge, 24-hour room service, bar or lounge, casino or nightclub, fitness centre or golf course, dive centre or other water sports, swimming pool, hot tub, spa, and so on. Remember that price increases with amenities but if you plan several days at the resort, amenities are essential to the experience.
No matter what your choice, research it carefully, budget wisely and book far in advance. Then have a magnificent honeymoon!