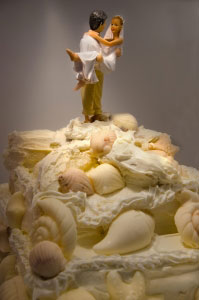 On an average, a hosting a wedding reception can set you back at least €27,000 and this doesn't include the honeymoon. When you think about it, there are a lot of things the two of you can do with €27,000 other than host an extravagant wedding.
Your wedding can be the most amazing event of your life without having to spend a fortune on it. You just need a budget and some practicality, planning and research.
Be Objective
In the end, what do you actually end up with after your wedding? Rings, a dress and tons of photographs, videos.
However…
• Wedding gown- While you may never wear the dress again, it is going to be seen in a lot of photos.
• Rings- You will be wearing your rings for as long as you remain married
• Photos- Photos and videos are will be pored over countless times.
These are things that do matter. You will want to make sure you like your dress and that the design is flattering. You will also want to hire a professional videographer or photographer and buy rings that will last and that you won't mind looking at every day.
However, this doesn't mean there aren't ways to save money, even on these important items. You can find the right dress online if you look long enough.
Set a Budget for Your Wedding
It is impossible to overestimate the importance of a budget. It is so easy to lose track of your expenses and pay a lot more than you intended to. Mainly, your expenses will be determined by how many guests are invited. It is a good idea to only invite those who are really special to you. Make sure you consider every possible detail when working out your expenses. Tipping is something which is most often forgotten about. Aim to tip photographers, limousine drivers and caterers around 15-20% of the total bill if they did well.
Who Gets The Bill?
There are traditions about who pays for what. Find out what the bride and groom's families are traditionally liable for. Then decide whether or not you want to follow those traditions.
Try to be fair and split the costs evenly. It is not reasonable to expect the bride's parents to come up with thousands of dollars on short notice, just because tradition says so.
How Do I Save Money?
There are several ways to cut costs on your wedding. For starters, you could cut down on your guest list. You could also scale down in a lot of other areas including the bridal ensemble, the wedding ring, the wedding cake, the bridesmaid's clothes, the reception venue and choosing to rent a tux instead of buying one.
Choosing to serve finger foods instead of an elaborate meal and shutting down the bar during the meal itself can save you a significant amount of money.
What If?
As a last incentive to lower your expenses, if you only spend €13,000 instead of €27,000 (maybe forgo the diamond engagement ring) you would have €14,000 free. If you invest that at a 10% annual interest rate, in forty years' time you'll have €634,000. Your marriage doesn't begin and end with the wedding. In today's economic climate, reaching retirement age with €634,000 could be well worth a smaller wedding.