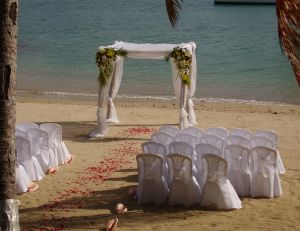 A destination wedding is like a regular wedding except, hosted in a vacation like setting. It can be anywhere in the world that you can afford and is usually out of town and requires the guest to travel. Popular choices for a destination wedding would be a beach setting, a luxurious event in a metropolitan resort, a mansion, or a country side, or a formal ceremony at a distant home of a relative or a close friend. The whole event generally takes several days.
Getting married abroad is becoming more and more prominent today. It is a great escape for couples who prefer to skip the tedious planning of a traditional wedding. Planning a destination wedding is less of a hassle as it requires less effort. Generally, the destination of choice will do all the preparations like decor, music, food and the person who will perform the wedding ceremony. Because these locations are often used to being a wedding destination wedding, they often have ready packages for the bride and groom.
Getting Married Abroad pros and cons
It is a great option for couples who want a totally unique experience for their wedding. But, destination weddings aren't for everyone, some couples come from a huge family with strong ties. Some also just want to share their blessings to the family and all of their friends. If you're that kind of person, destination weddings might not be for you.
If you plan to get married abroad, you will have to limit the number of participants because of the added travel expenses. If the location is a popular travel destination, it is also possible that their rates are slightly higher than your typical locale.
The great thing about destination weddings is that it can turn out to be the most memorable and romantic moment of your lives, including guests present in your wedding ceremony. You will have a more intimate experience with the people who are closest to you for several days. It is an unforgettable celebration, leaving room in the future for rekindling the most special moments by revisiting the very place you got married.